Save Every Scene
Catch scenes with easy zooming and excellent picture quality, using the world's first* HDR (High Dynamic Range) Movie technology for clear shots even with backlighting.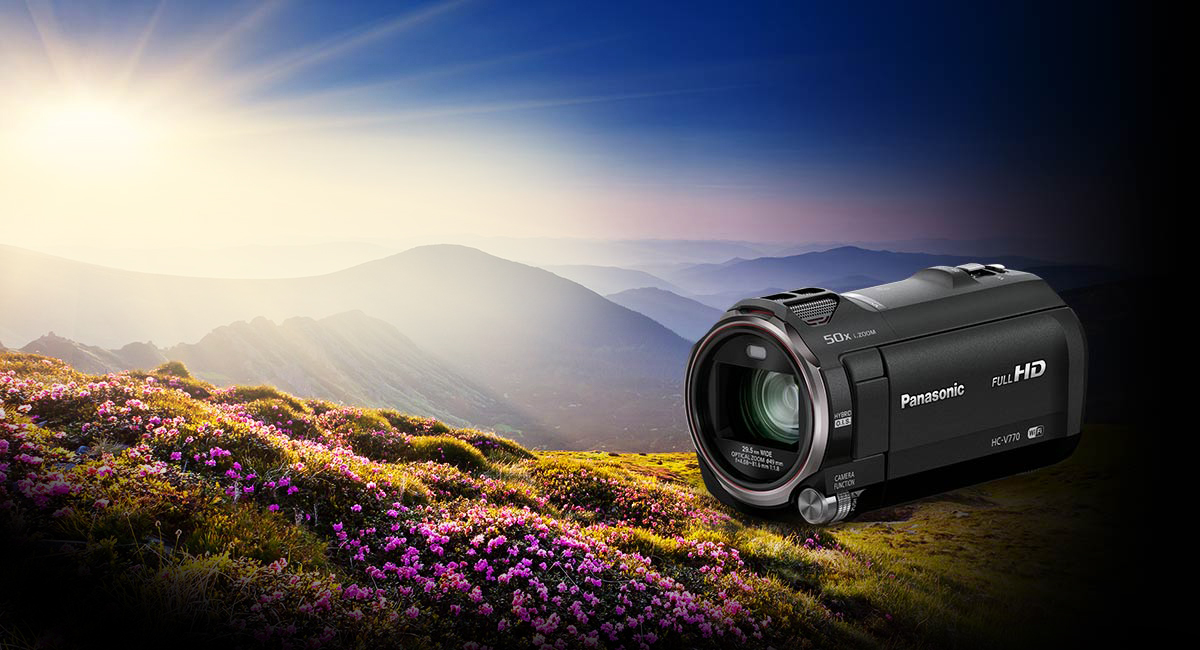 Premium Picture Quality withAdvanced Lens, Sensor and Engine
The lens system drives each of four lens groups separately, reducing the drive ranges to result in high image quality, high-powered zooming, in a compact camera body. This combined with the BSI sensor with 6.03M effective pixels and the high-speed Crystal Engine, for crisp, clear pictures.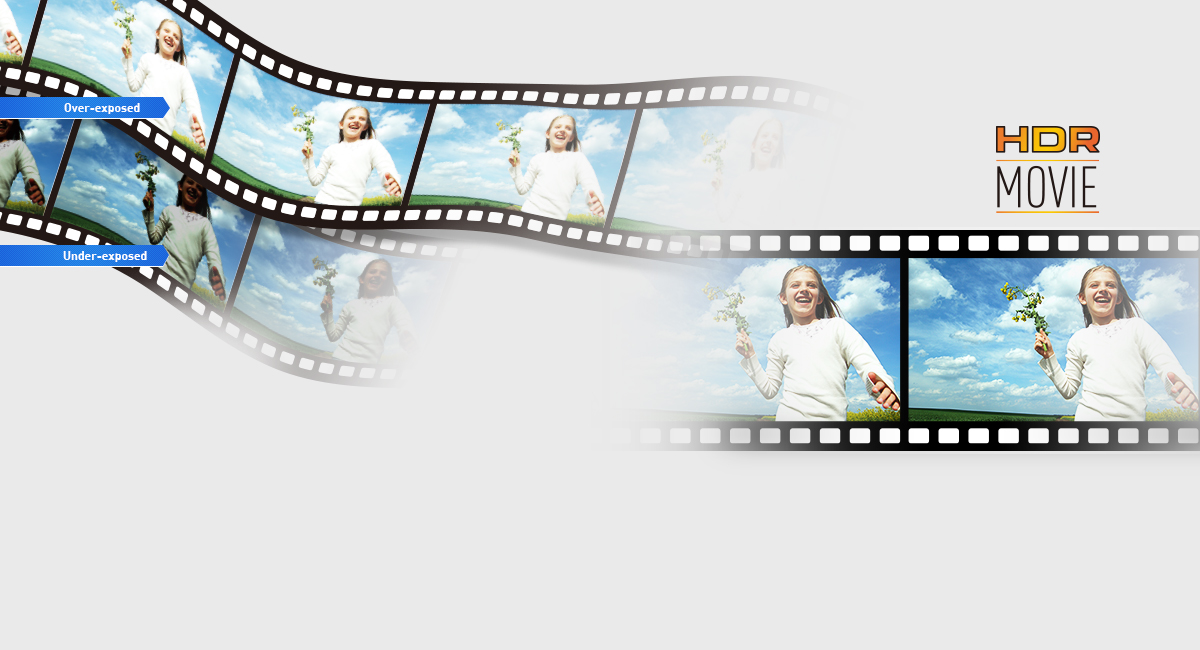 HDR (High Dynamic Range) Movie
Clear shots with excellent detail in both bright and dark areas By combining two images taken with different exposure values, the HDR Movie function suppresses blown highlights and blocked shadows for crisper, clearer videos. This is the world's first* consumer camcorder to feature the HDR Movie function. Even in difficult shooting situations you can easily capture natural videos with excellent gradation. * For a consumer Full HD video camera as of January 5th, 2015.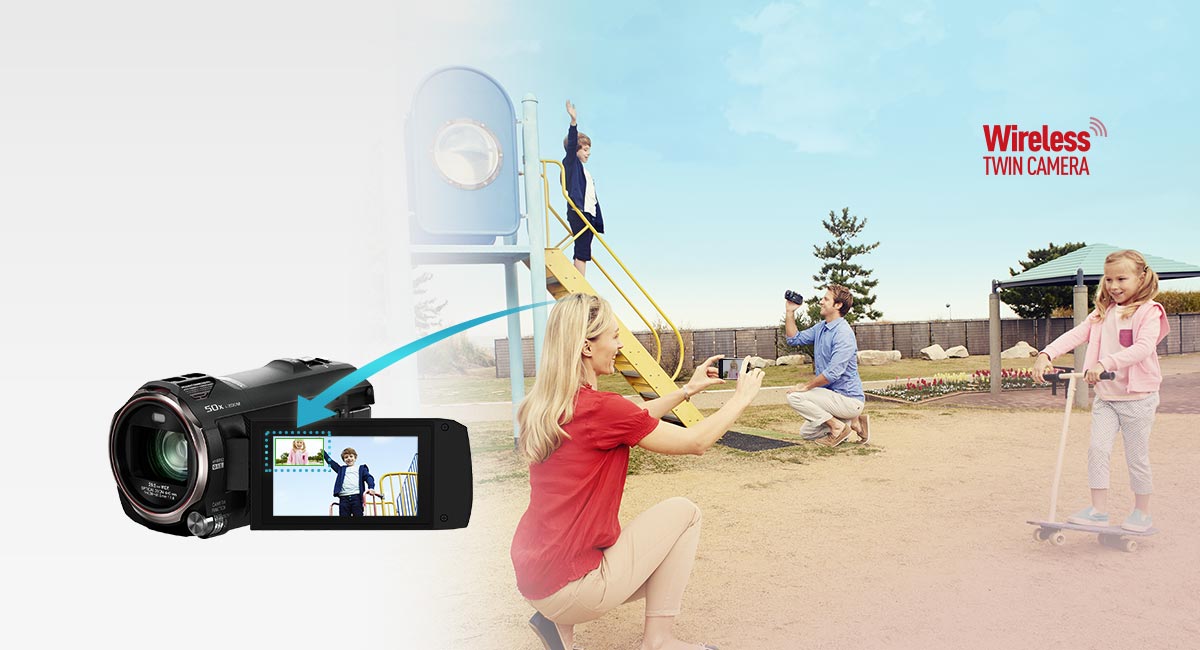 Wireless Twin Camera
You can use your smartphone with Wi-Fi operation as a sub camera, to shoot from two angles at the same time. Since you are shooting with different cameras, you can use one at a distance, or at any angle you choose, giving you a wide variety of Picture-in-Picture images.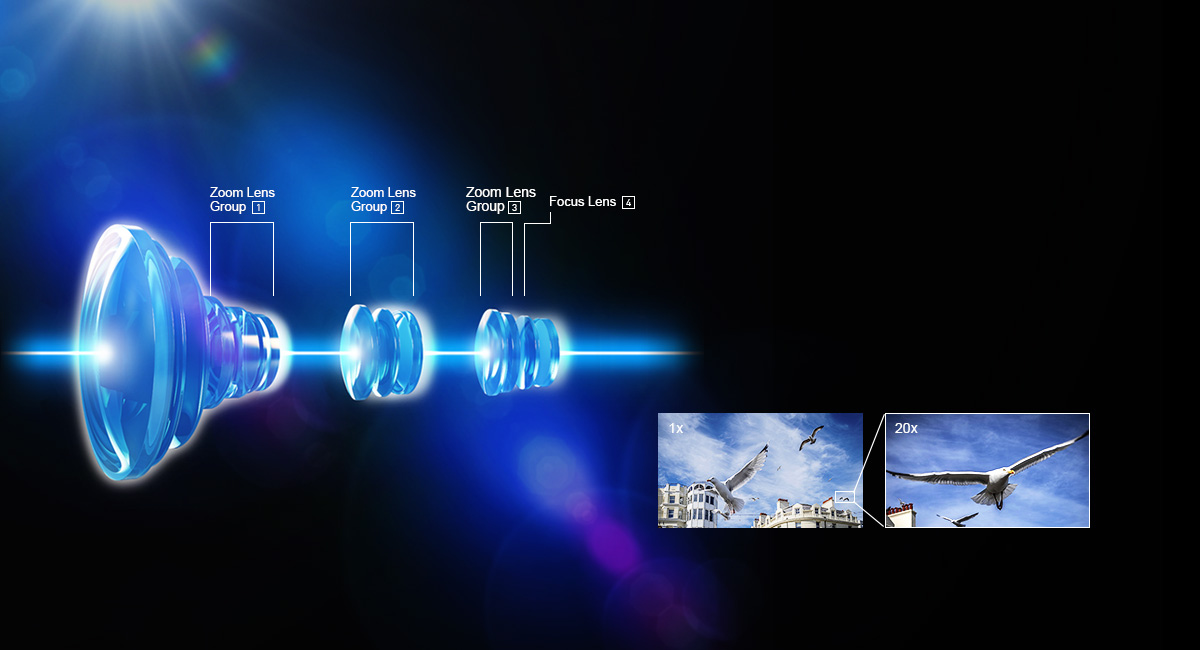 20x Optical Zoom with 4-Drive Lens System
The lens system drives each of four lens groups separately, reducing the drive ranges to result in high image quality, high-powered zooming, in a compact camera body. This keeps the body compact even with a 20x optical zoom.

BSI Sensor
The Back Side Illumination Sensor has a large effective area with 6.03M effective pixels, suppressing noise even when shooting in dimly lit places, such as indoor scenes or nightscapes. It achieves stunningly beautiful images even down to the tiniest details.

Crystal Engine
Panasonic's unique, high-speed engine lets you shoot and play smooth Slow Motion Video in Full HD. The Noise Reduction function reduces noise for crisp, vibrantly colourful Full HD images.

Level Shot Function
The Level Shot function automatically detects and corrects the tilting of captured images. The setting can be adjusted to one of three levels (OFF, Normal, Strong) depending on the shooting conditions.

5-Axis HYBRID O.I.S. +
HYBRID O.I.S. + uses five-axis correction to thoroughly suppress blurring all the way from wide-angle to powerful zoom shots. This lets you capture crisp, clear images without blurring, in almost every shooting situation.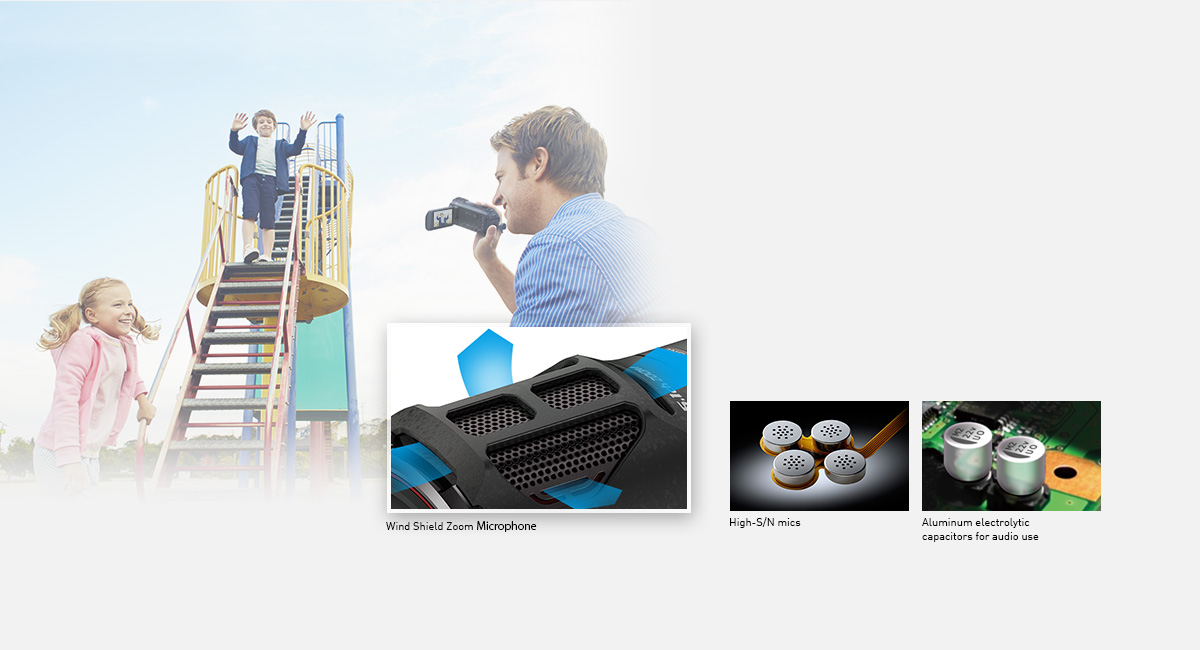 High Quality Sound Recording
Wind Shield Zoom Microphone A special damping material is provided in the space between the MIC and the MIC grill suppress wind noise for clear recording. High Quality Audio Parts Four 6 mm-diameter, high-S/N MICs and aluminum electrolytic capacitors reduce sound distortion and increase clarity.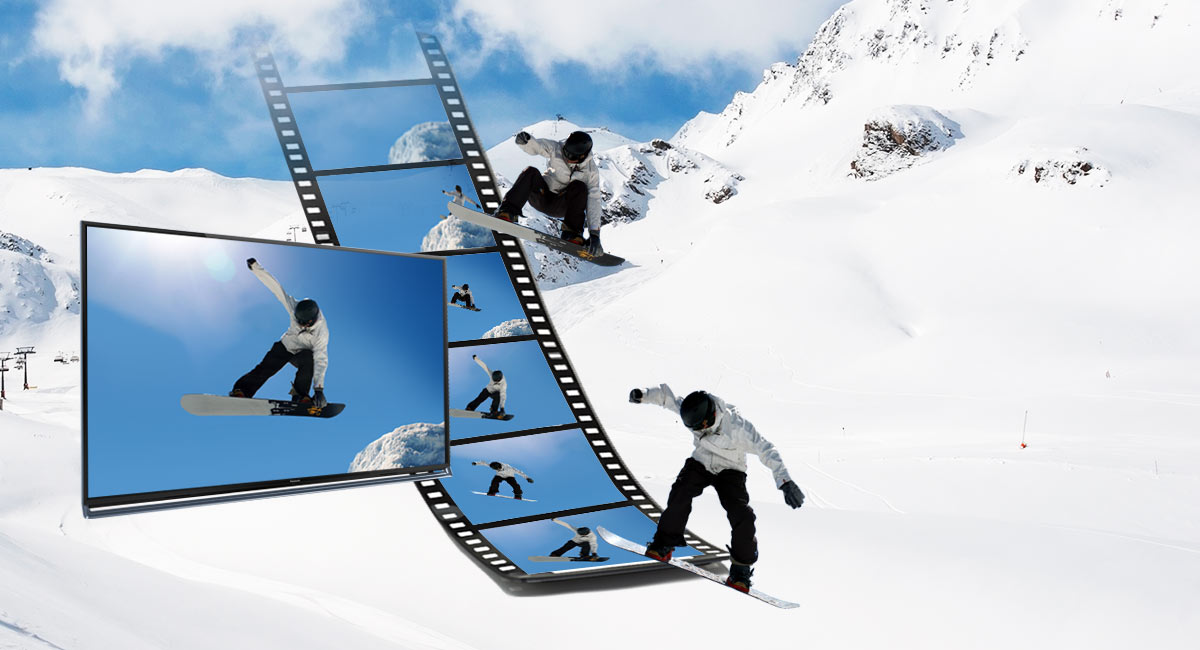 Slow Motion Video in Full HD
The model records Full HD (1920 x 1080) video at 120 fps.* And, the Intelligent Frame Creation of the Crystal Engine interpolates to an equivalent of 240 fps,* for smooth slow motion. Switch to slow motion while you touch the icon on the LCD screen during shooting. * For NTSC area: 60 / 120 / 240 fps * For PAL area: 50 / 100 / 200 fps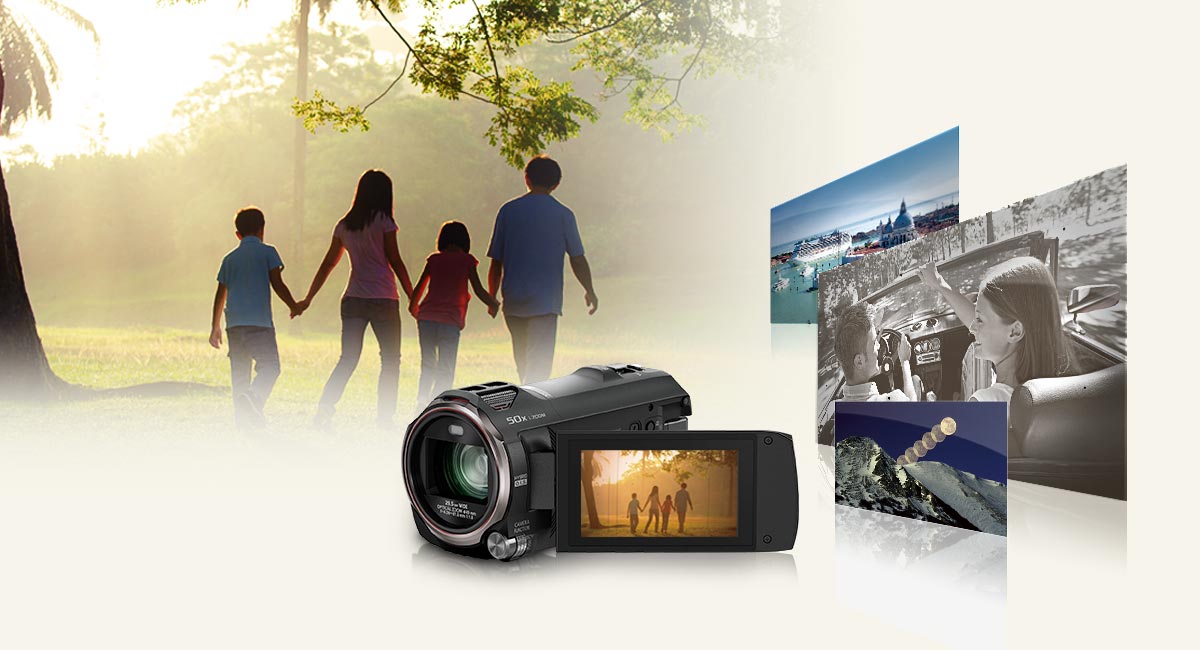 Creative Control
Filter effects – Miniature Effect, 8 mm Movie, Silent Movie and Time Lapse Recording – makes it possible to shoot impressive video recordings that are matched to the shooting situation.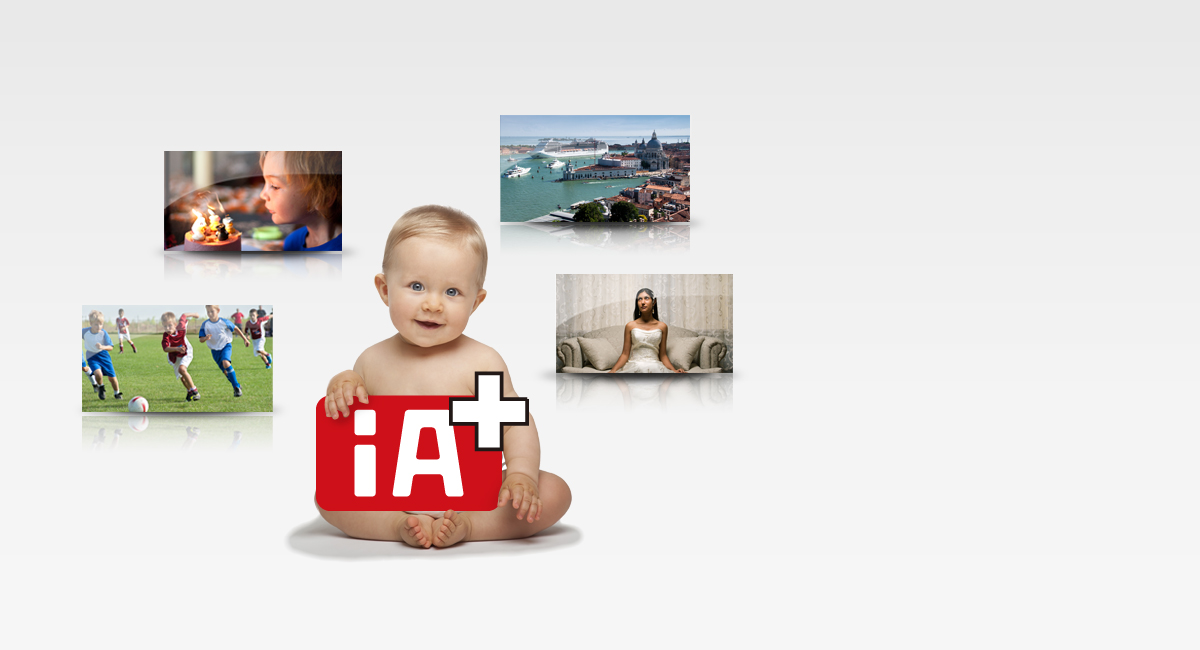 iA (Intelligent Auto) / iA Plus Mode
This powerful function senses the shooting conditions and automatically makes the settings and activates functions that deliver optimal results. In addition, the iA Plus Mode enables you to adjust exposure compensation and white balance by just pressing the button on the LCD.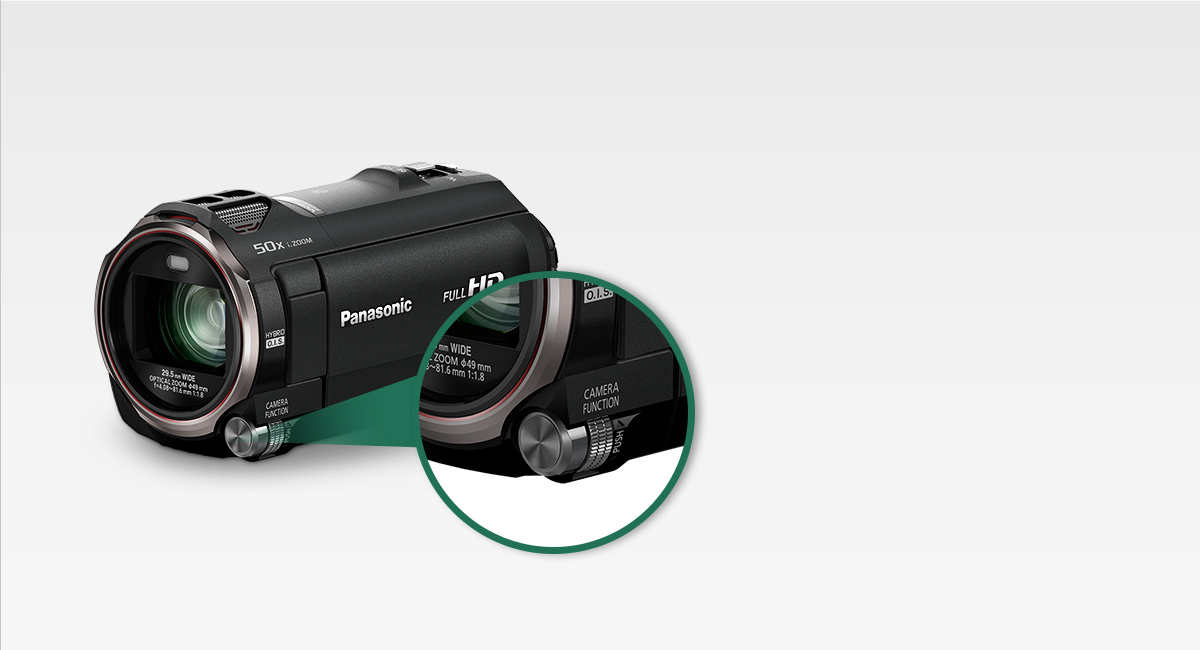 Multi Manual Dial
Simply push or rotate the manual dial to adjust the settings of several allocated functions, such as focusing and changing the iris.
Adjustable Items
Focus
White Balance Mode
Shutter Speed
Iris
Sharpness
Colour Saturation
White Balance Fine
Brightness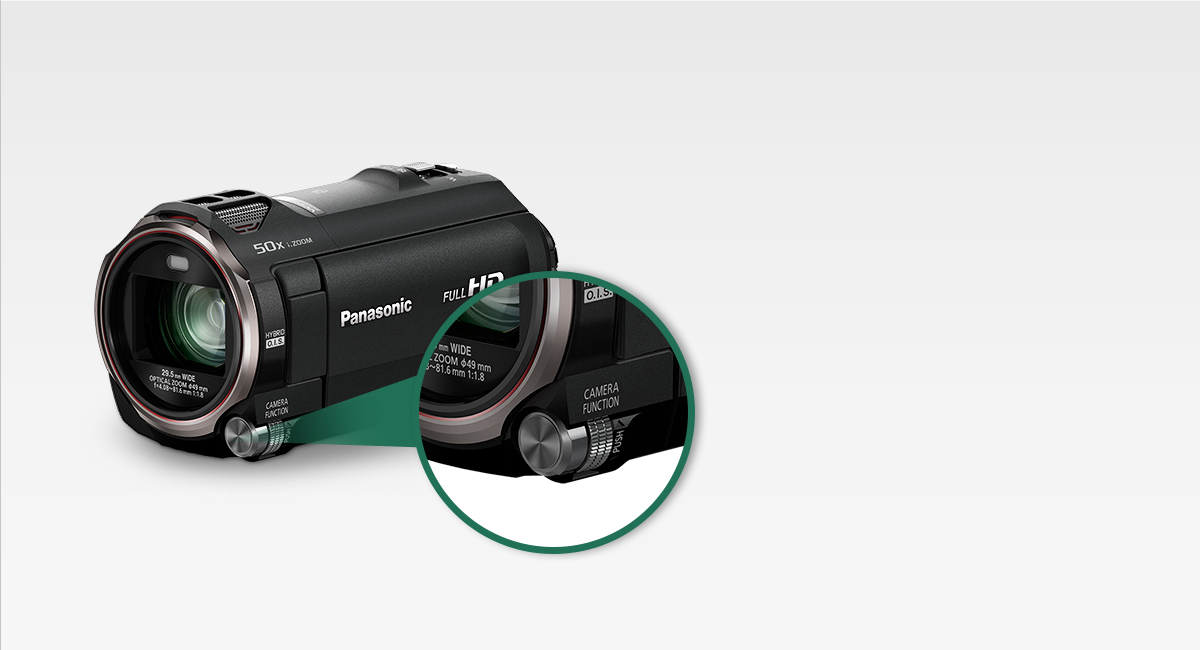 Wi-Fi Functions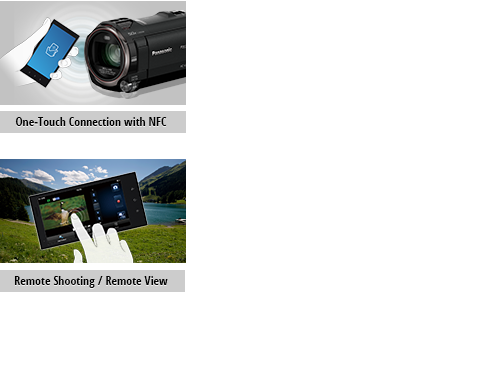 One-Touch Connection with NFC
NFC lets you connect a smartphone or tablet to the camcorder in one touch, without bothersome initial settings. You can use QR codes to make Wi-Fi setting quickly and easily, even without NFC.
Remote Shooting / Viewing
The "Panasonic Image App" lets you use a smartphone or tablet as a live-view remote control to operate the camcorder from a distance. Videos and photos on the camera can be viewed on a smartphone or tablet, and uploaded to an SNS site.
Wi-Fi Functions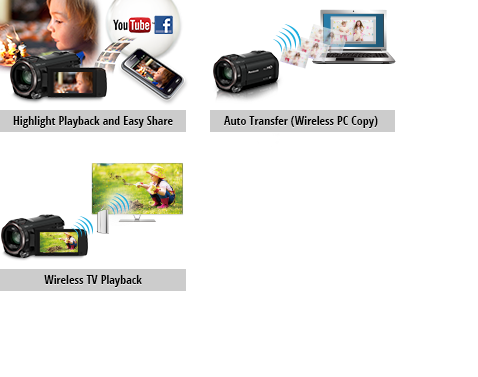 Highlight Playback and Easy Share
You can enjoy Highlight Playback with a smartphone or tablet right after shooting. Favorite scenes can be shared on SNS with simple drag and drop operation.
Auto Transfer (Wireless PC Copy)
Images are transferred from your camcorder to a computer via the wireless access point at home.
Wireless TV Playback*
An access point at home can be used to transfer data wirelessly to the TV or a tablet in the living room, or other rooms in the house. You can play images on the large-screen display. * A wireless access point (router) is required.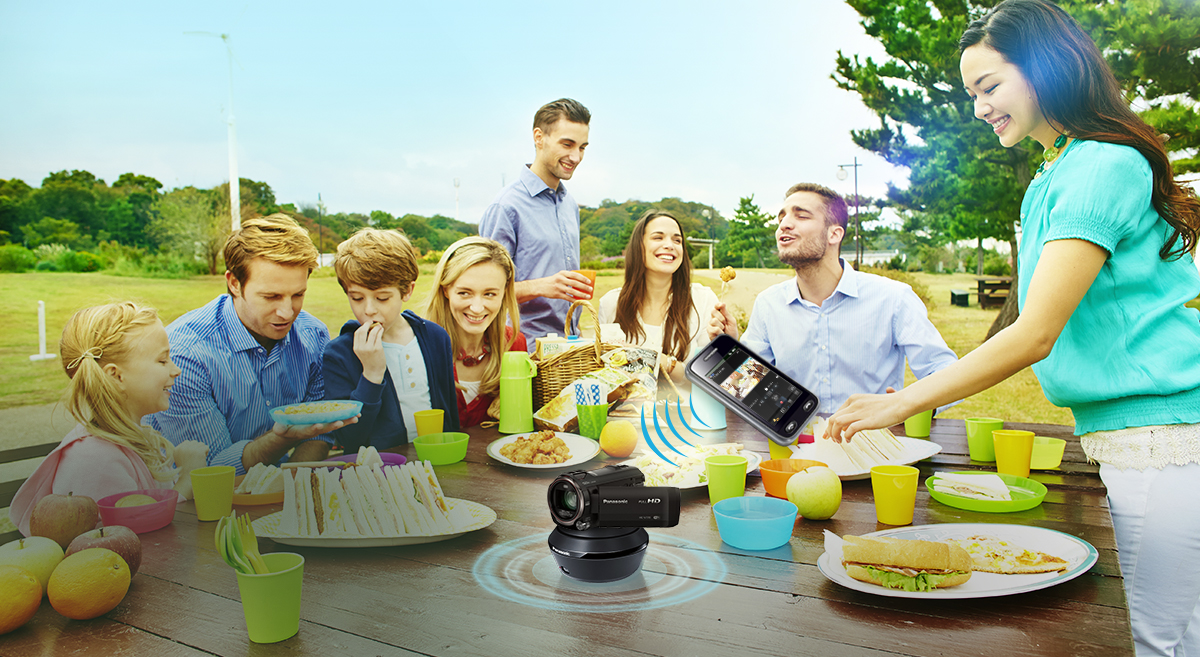 Remote Pan / Tilt Cradle (optional)
Connect to a Remote Pan / Tilt Cradle (sold separately), and you can make the camera rotate automatically. The motion sensor and Face Recognition function automatically capture video of everyone's faces at parties and other gatherings. The camera even watches over pets when you're not home. You can operate it directly from the camcorder, or use remote control with the Panasonic Image App.
SENSOR SECTION
SENSOR FOR MAIN CAMERA - Image Sensor
1/2.3" BSI MOS Sensor
SENSOR FOR MAIN CAMERA - Total Pixels
12.76M
SENSOR FOR MAIN CAMERA - Effective Pixels (Motion Image)
6.03M [16:9] (Level Shot Function OFF or Normal)
SENSOR FOR MAIN CAMERA - Effective Pixels (Still Image)
5.21M [3:2] 6.03M [16:9] 4.72M [4:3]
SENSOR FOR SUB CAMERA - Image Sensor
-
SENSOR FOR SUB CAMERA - Total Pixels
-
LENS SECTION
LENS FOR MAIN CAMERA - F Value
F1.8 (WIDE) / F3.6 (TELE)
LENS FOR MAIN CAMERA - Optical Zoom
20x
LENS FOR MAIN CAMERA - Focal Length
4.08 – 81.6 mm
LENS FOR MAIN CAMERA - 35 mm Film Camera Equivalent (Motion Image)
29.5 – 612 mm [16:9] (Level Shot Function OFF or Normal)
LENS FOR MAIN CAMERA - 35 mm Film Camera Equivalent (Still Image)
33.5 – 669.9 mm [3:2] 29.5 – 612 mm [16:9] 36.2 – 724.6 mm [4:3]
LENS FOR MAIN CAMERA - Filter Diameter
49 mm
LENS FOR MAIN CAMERA - Lens Brand
Panasonic Lens
LENS FOR SUB CAMERA - F Value
–
LENS FOR SUB CAMERA - Focal Length
–
LENS FOR SUB CAMERA - 35 mm Film Camera Equivalent (Motion Image)
–
CAMERA SECTION
Standard Illumination
1400 lx
Minimum Illumination
2 lx (Scene Mode Low Light 1/30), 1 lx (Night Mode (Color))
Focus
Auto / Manual
Zoom - Intelligent OFF
20x
Zoom - Intelligent ON
50x
Zoom - Digital
60x / 1500x (The maximum value of zoom magnification can be set in two patterns)
White Balance
Auto / White Set / Sunny / Cloudy / Indoor1 / Indoor2
Shutter Speed - Motion Image
[60p / 60i] Auto Slow Shutter ON : 1/30 – 1/8000 Auto Slow Shutter OFF : 1/60 – 1/8000
Shutter Speed - Still Image
1/2 – 1/2000
Iris
Auto / Manual
Image Stabilizer
HYBRID O.I.S.+ with Active Mode, O.I.S. Lock, Level Shot Function
Creative Control
Miniature Effect, Silent Movie, 8 mm Movie, Time Lapse Rec
RECORDING SECTION
Recording Media
SD/SDHC/SDXC Memory Cards
Recording Format
[AVCHD] AVCHD Progressive [iFrame / MP4] MP4
Compression Method
MPEG-4 AVC/H.264
Recording / Playback Mode
1080/60p (28Mbps / VBR), (1920 x 1080/60p) PH (24Mbps / VBR), (1920 x 1080/60i) HA (17Mbps / VBR), (1920 x 1080/60i) HG (13Mbps / VBR), (1920 x 1080/60i) HE (5Mbps / VBR), (1920 x 1080/60i) MP4/1080p(50M) (50Mbps / VBR), (1920 x 1080/60p) MP4/1080p(28M) (28Mbps / VBR), (1920 x 1080/60p) MP4/720p(9M) (9Mbps / VBR), (1280 x 720/30p) iFrame (28Mbps / VBR), (960 x 540/30p)
Actual Recordable Time with Supplied Battery
Approx. 50 min (60p mode) Approx. 50 min (PH mode) Approx. 50 min (HA mode) Approx. 50 min (HG mode) Approx. 50 min (HE mode) Approx. 50 min (MP4 50M) Approx. 50 min (MP4 28M) Approx. 55 min (MP4 720p) Approx. 55 min (iFrame)
Thumbnail Display
20 thumbnails/page, 9 thumbnails/page, 1 thumbnail/page
Audio Recording System
AVCHD: Dolby Digital (5.1 CH / 2 CH) iFrame, MP4: AAC (2 CH)
Microphone
5.1 Ch Surround, Zoom, Focus and Stereo Microphone
Speaker
Dynamic type
STILL IMAGE SECTION
Recording Format
JPEG (DCF/Exif2.2)
Recording Image Size - Still Image
[16:9] 24M (6528 x 3672),12.6M (4736 x 2664), 2.1M (1920 x 1080) [3:2] 20M (5472 x 3648), 10.6M (3984 x 2656), 2.0M (1728 x 1152) [4:3] 18M (4896 x 3672), 8M (3264 x 2448), 0.3M (640 x 480)
Recording Image Size - Simultaneous Recording
[16:9] 12.6M (4736 x 2664), 2.1M (1920 x 1080)
Flash
–
GENERAL SECTION
Power Supply
3.6V (Battery) / 5.0V (AC Adaptor)
Power Consumption
Max. 6.7W (Recording) / Max. 7.7W (Charging)
Dimensions (W x H x D)
Approx. 65 x 73 x 139 mm (2.559 x 2.874 x 5.472 inch)
Weight (w/o battery and SD card)
Approx. 353 g (0.778 lb)
LCD Monitor
3.0" Wide LCD monitor (460,800 dots)
Touch Panel
Yes
View Finder
–
Manual Ring / Dial
Yes (Dial)
Interface - AV
Yes
Interface - HDMI
Yes (micro)
Interface - Microphones (stereo mini)
Yes
Interface - Headphone (stereo mini)
Yes
Interface - USB
2.0 Hi-Speed
Interface - USB Charge
Yes
LED Video Light
Yes
Accessory Shoe
Yes (Cold)
Lens Cover
Yes (Auto)
On-Screen Display Language
English, French, Spanish, Chinese Traditional
Wi-Fi
Standard
IEEE 802.11b/g/n
Frequency
2.4 GHz band
NFC
Yes
STANDARD ACCESSORY
AC Adaptor
Yes
AC Cable
–
DC Cable
Yes (USB Type)
Rechargeable Battery Pack
Yes (1,940 mAh)
Battery Charger
–
IR Remote
–
HDMI Cable
Yes (micro)
AV Multi Cable
–
AV Cable
–
Shoe adaptor
Yes
Lens Hood
–
USB Cable
Yes
Editing Software
HD Writer AE 5.2 (Download)