Mobile 4K 60p Recording
* For a camcorder with an integrated lens capable of 4K 60p recording (as of January 6th, 2020. Panasonic research). Note: The mics shown in product photos are optional.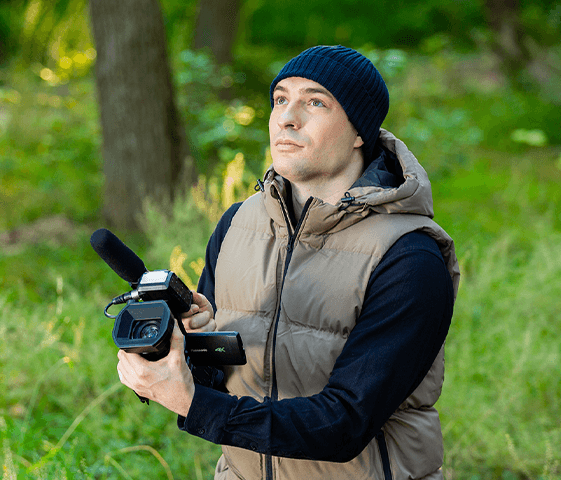 Industry's Smallest and Lightest 4K 60p Director's Camcorder
While excelling in mobility and portability, the compact body considers the weight balance of the advanced functions when shooting.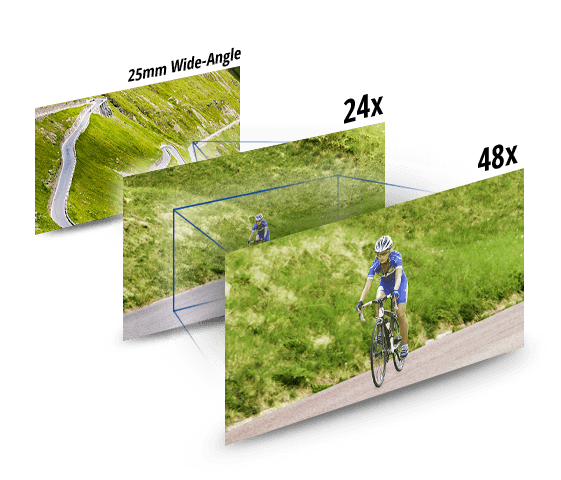 Wide 25mm* and Optical 24x Zoom Lens
The lens covers the range from 25mm wide-angle to 600mm tele with a 24x zoom. i.ZOOM achieves 32x zoom with 4K resolution, and 48x zoom with FHD.* 35mm camera equivalent.
4K High-Precision AF
Face Detection precisely captures subjects on-site free from out of focus problems and insufficient exposure. Also, by adding color recognition, tracking subjects is improved, without interruption, when the face moves to either side.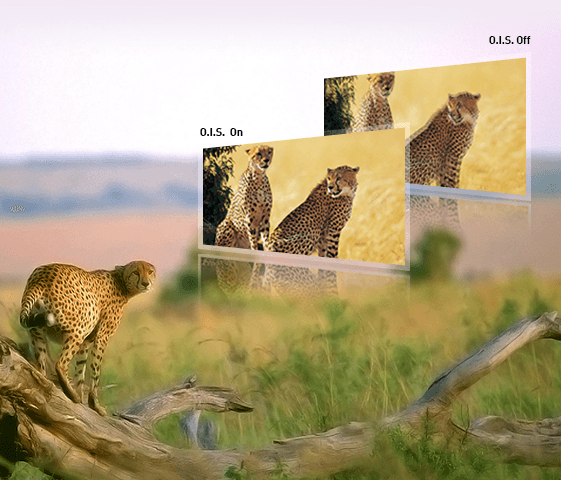 HYBRID O.I.S.
In both UHD/FHD modes, in addition to Optical Image Stabilization, Electronic Image Stabilization detects and corrects handshake in the 5-axis direction. The Ball O.I.S. System reduces friction in the drive section, especially improving the correction of small-amplitude blurring.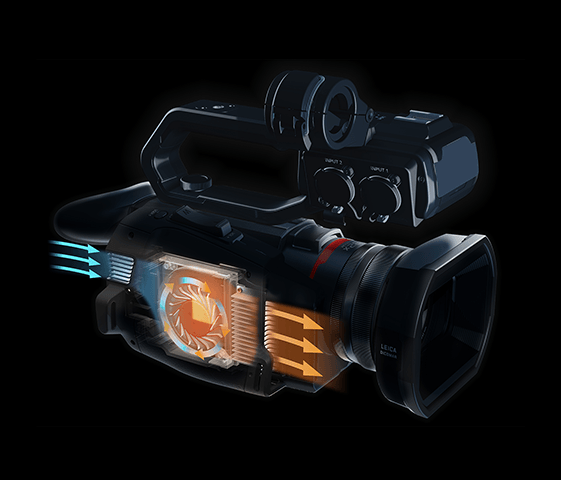 Heat-Dispersing Design
A new ultrathin fan disperses heat in a camcorder with integrated lens and 4K 60p recording. It is the industry's smallest and lightest unit with low power consumption.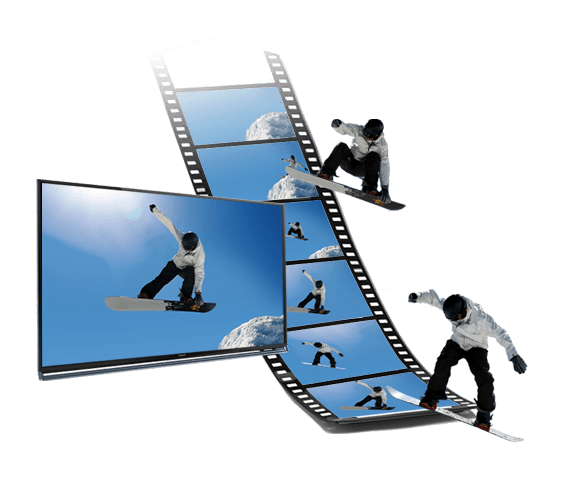 Versatile Recording Modes
Supports a high bit rate of 200 Mbps for 59.94p/50p video recording with HEVC (LongGOP/10 bit 4:2:0/MOV) codec, and 120/100fps* Super Slow-motion with 10-bit recording in FHD.* 59.94Hz: 120fps, 50Hz: 100fps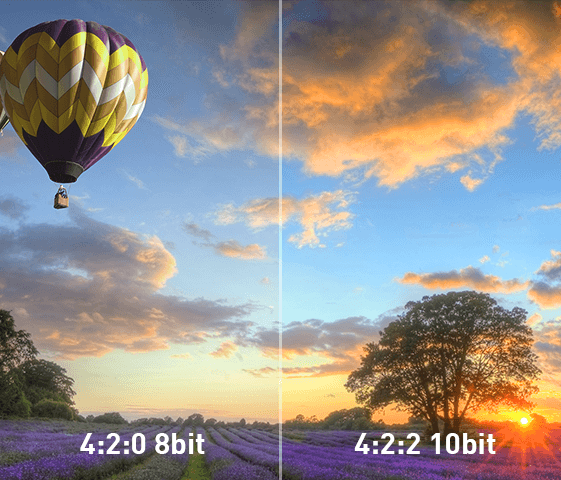 4:2:2 10-bit Internal Recording
Records a 4:2:2 10-bit color profile of up to LongGOP UHD 29.97p/25p (150 Mbps), or FHD 59.94p/50p (100 Mbps) with SD cards. Outputs 10-bit UHD 59.94p/50p images via HDMI.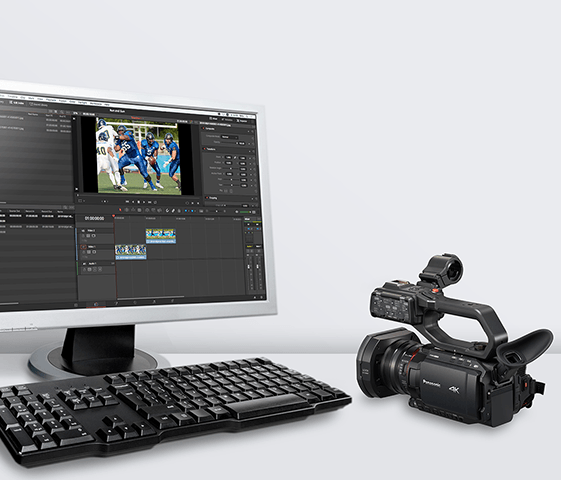 Multi-Formats Supported
Versatile formats and bit rates are available. In addition to easy-to-edit MOV and MP4, 720p AVCHD 8-Mbps (PM) mode is included.
SENSOR SECTION
Image Sensor
1/2.5-type (inch) MOS Sensor
Effective Pixles
8.29 megapixels
LENS SECTION
F Value
F1.8 ― 4.0
Optical Zoom
24x
Focal Length
4.12 ― 98.9mm
35 mm Film Camera Equivalent
25.0 ― 600.0 mm
Filter Diameter
62 mm
Lens Brand
Leica Dicomar Lens
CAMERA SECTION
Minimum Illumination
1.5 lx (F1.8, Super Gain +, 1/30)
Focus
Auto / Manual
Zoom - Intelligent OFF
24x
Zoom - Intelligent ON
Max. 48x (UHD 32x)
Zoom - Digital
2x / 5x / 10x
Shutter Speed - 59.94 Hz mode
59.94i/59.94p: 1/60, 1/100, 1/120, 1/180, 1/250, 1/350, 1/500, 1/750, 1/1000, 1/1500,1/2000, 1/3000, 1/4000, 1/8000 sec29.97p: 1/30, 1/50, 1/60, 1/100, 1/120, 1/180, 1/250, 1/350, 1/500, 1/750, 1/1000, 1/1500,1/2000, 1/3000, 1/4000, 1/8000 sec23.98p: 1/24, 1/48, 1/50, 1/60, 1/100, 1/120, 1/180, 1/250, 1/350, 1/500, 1/750, 1/1000, 1/1500, 1/2000, 1/3000, 1/4000, 1/8000 sec
Shutter Speed - 50.00 Hz mode
50i/50p: 1/50, 1/60, 1/100, 1/125, 1/180, 1/250, 1/350, 1/500, 1/750, 1/1000, 1/1500, 1/2000, 1/3000, 1/4000, 1/8000 sec25p: 1/25, 1/50, 1/60, 1/100, 1/125, 1/180, 1/250, 1/350, 1/500, 1/750, 1/1000, 1/1500, 1/2000, 1/3000, 1/4000, 1/8000 sec
Slow Shutter Speed - 59.94 Hz mode
59.94i/59.94p: 1/8, 1/15, 1/30 sec29.97p: 1/8, 1/15 sec23.98p: 1/6, 1/12 sec
Slow Shutter Speed - 50.00 Hz mode
50i/50p: 1/6, 1/12, 1/25 sec25p: 1/6, 1/12 sec
Super Slow Recording Frame Rate - 59.94 Hz mode
FHD 120 fps (1/2 speed at 60p, 1/4 speed at 30p, 1/5 speed at 24p)
Super Slow Recording Frame Rate - 50.00 Hz mode
FHD 100 fps (1/2 speed at 50p, 1/4 speed at 25p)
ND Filter
1/4, 1/16, 1/64, OFF
IR Filter
Incorporates the ON/OFF control function
White Balance
Auto / ATW LOCK / 3200K / 5600K / VAR (2000K—15000K) / Ach Fixed / Bch Fixed
Iris
Auto / Manual
Image Stabilizer
Ball O.I.S., 5-Axis HYBRID O.I.S. (UHD/FHD)
RECORDING SECTION
Recording Media
SDHC/SDXC Memory Card
Recording Format
MOV, MP4, AVCHD
Video Compression Method
MOV/MP4: H.264/MPEG-4 AVC High Profile, H.265/MPEG-H HEVC Main10 ProfileAVCHD: H.264/MPEG-4 AVC High Profile
Audio Compression Method
MOV: LPCM (24bit 2ch)MP4: AAC (16bit 2ch)AVCHD: Dolby Audio (16bit 2ch)
System Frequency
59.94Hz / 50.00Hz
Recording / Playback Mode - MOV (HEVC)
[4:2:0 10bit] UHD 3840x2160 59.94p/50.00p HEVC 200M: Average 200Mbps (VBR) UHD 3840x2160 29.97p/25.00p/23.98p HEVC 150M: Average 150Mbps (VBR)
Recording / Playback Mode - MOV
[4:2:0 8bit] UHD 3840x2160 59.94p/50.00p 150M: Average 150Mbps (VBR) UHD 3840x2160 29.97p/25.00p/23.98p 100M: Average 100Mbps (VBR)[4:2:2 10bit] UHD 3840x2160 29.97p/25.00p/23.98p 150M: Average 150Mbps (VBR) FHD 1920x1080 59.94p/50.00p 200M (ALL-Intra): Average 200Mbps (VBR) FHD 1920x1080 29.97p/25.00p/23.98p 100M (ALL-Intra): Average 100Mbps (VBR) FHD 1920x1080 59.94i/50i 100M (ALL-Intra): Average 100Mbps (VBR) FHD 1920x1080 59.94p/50.00p 100M: Average 100Mbps (VBR) FHD 1920x1080 29.97p/25.00p/23.98p/59.94i/50.00i 50M: Average 50Mbps (VBR)
Recording / Playback Mode - MP4 (HEVC)
[4:2:0 10bit] UHD 3840x2160 59.94p/50.00p HEVC 100M: Average 100Mbps (VBR) UHD 3840x2160 29.97p/25.00p/23.98p HEVC 72M: Average 72Mbps (VBR)
Recording / Playback Mode - MP4
[4:2:0 8bit] UHD 3840x2160 29.97p/25.00p/23.98p 72M: Average 72Mbps (VBR) FHD 1920x1080 59.94p/50.00p/23.98p 50M: Average 50Mbps (VBR)
Recording / Playback Mode - AVCHD
[4:2:0 8bit] PS 1920x1080 59.94p/50.00p: Average 25Mbps (VBR) PH 1920x1080 59.94i/50.00i/23.98p: Average 21Mbps (VBR) HA 1920x1080 59.94i/50.00i: Average 17Mbps (VBR) PM 1280x720 59.94p/50.00p: Average 8Mbps (VBR)
Recording / Playback Mode - P2
—
LIVE STREAMING
Video Compression Format
H.264/MPEG-4 AVC Main Profile, High Profile
Video Resolution
1920 x 1080 (FHD), 1280 x 720 (HD), 640 x 360, 320 x 180
Streaming Method
Unicast, Multicast
Frame Rate
System frequency = 59.94 Hz: 30 fps, 60 fpsSystem frequency = 50.00 Hz: 25 fps, 50 fps
Bit Rate
24 Mbps, 20 Mbps, 16 Mbps, 14 Mbps, 8 Mbps, 6 Mbps, 4 Mbps, 3 Mbps, 2 Mbps, 1.5 Mbps, 1 Mbps, 0.7 Mbps, 0.5 Mbps
Audio Compression Format
AAC-LC, 48 kHz/16 bit, 2ch
Network Protocol
RTSP/RTP/RTMP/RTMPS
STILL IMAGE SECTION
Recording Format
JPEG (DCF/Exif2.2)
Recording Image Size*
Video Playback Mode: 3840 x 2160 (16:9), 1920 x 1080 (16:9), 1280 x 720 (16:9)
GENERAL SECTION
Power Supply
7.28V (Battery) / 12V (AC Adaptor)
Power Consumption
15.5W (LCD Monitor)
Dimensions (W x H x D)
Approx. 129 x 159 x 257 mm (5.08 x 6.26 x 10.1 inch)
Weight
Body: approx. 0.9kg (1.98 lb) (body only, excluding handle, lens hood, battery, and accessories)Shooting: approx. 1.5kg (3.31 lb) (including handle, lens hood, battery, and eyecup)
LCD Monitor
8.88 cm (3.5-inch) Wide LCD monitor (About 2,760,000 dots) (For Europe)3.5-inch Wide LCD monitor (About 2,760,000 dots) (For North America / Asia)
Viewfinder
0.61 cm (0.24-inch) Wide EVF (About 1,560,000 dots) (For Europe)0.24-inch Wide EVF (About 1,560,000 dots) (For North America / Asia)
Manual Ring
Focus / Zoom or Iris
Accessory Shoe
Yes
LED Video Light - Average Illumination
Approx. 70 lx (1.0m)
LED Video Light - Irradiation Angle
Approx. 30°
LED Video Light - Color Temperature
Approx. 4600K
INTERFACE SECTION
Video - SDI OUT
BNC x 1, 0.8V[p-p], 75Ω, 3G/1.5G HD-SDI supportedOutput format:1080/59.94p LEVEL-A/50.00p LEVEL-A, 1080/29.97PsF/25.00PsF/23.98PsF, 1080/59.94i/50.00i, 720/59.94p/50.00p
Video - HDMI
Type A x 1 (VIERA Link not supported)Output format:2160/59.94p/50.00p/29.97p/25.00p/23.98p,1080/59.94p/50.00p/29.97p/25.00p/23.98p/59.94i/50.00i,720/59.94p/50.00p, 480/59.94p, 576/50.00p
Audio Input - Built-in Microphone
Stereo microphone
Audio Input - Microphone Input
3.5mm stereo mini jack x 1
Audio Input - XLR Input
XLR (3 pins) x 2 Input high impedance, LINE/MIC/MIC+48 V (switchable SW)LINE:+4dBu/0dBu (switchable menu)MIC: –40dBu/–50dBu/–60dBu (switchable menu)
Audio Output - SDI
2 ch (LPCM) Gain: 0dB/-6dB/-8dB
Audio Output - HDMI
2 ch (LPCM 24bit)
Audio Output - Headphone
3.5 mm diameter stereo mini jack x 1
Audio Output - Speaker
15 mm diameter, round x 1