All the Beauty in Low Light
Get bright, beautiful shots with the Large MOS Sensor, LEICA Dicomar Lens and State-of-the-art High Precision AF. Complete with Wide-Angle 25mm* and Optical 24x Zoom, and the new Hybrid O.I.S. for zooming with minimal blurring.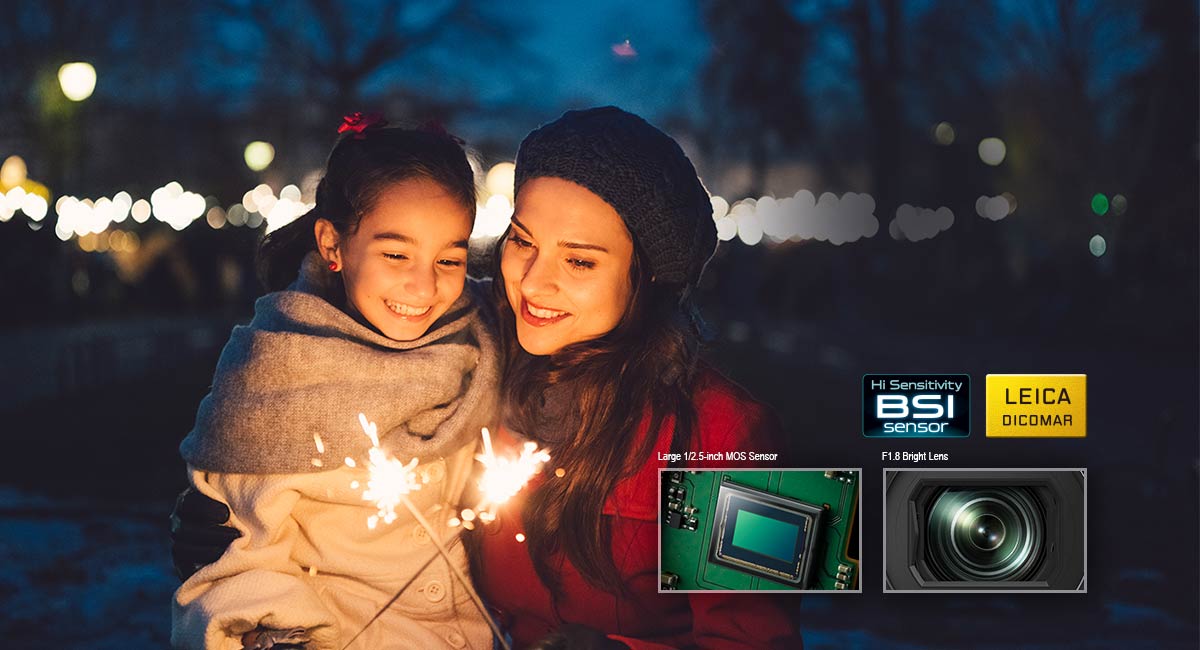 Brilliant image quality
Enjoy excellent low-light performance with a large 1/2.5-inch sensor and bright F1.8 lens. The remarkable LEICA Dicomar lens produces the subtle nuances and shading that LEICA lenses are renowned for. Capture stunningly beautiful memories even in dimly lit locations.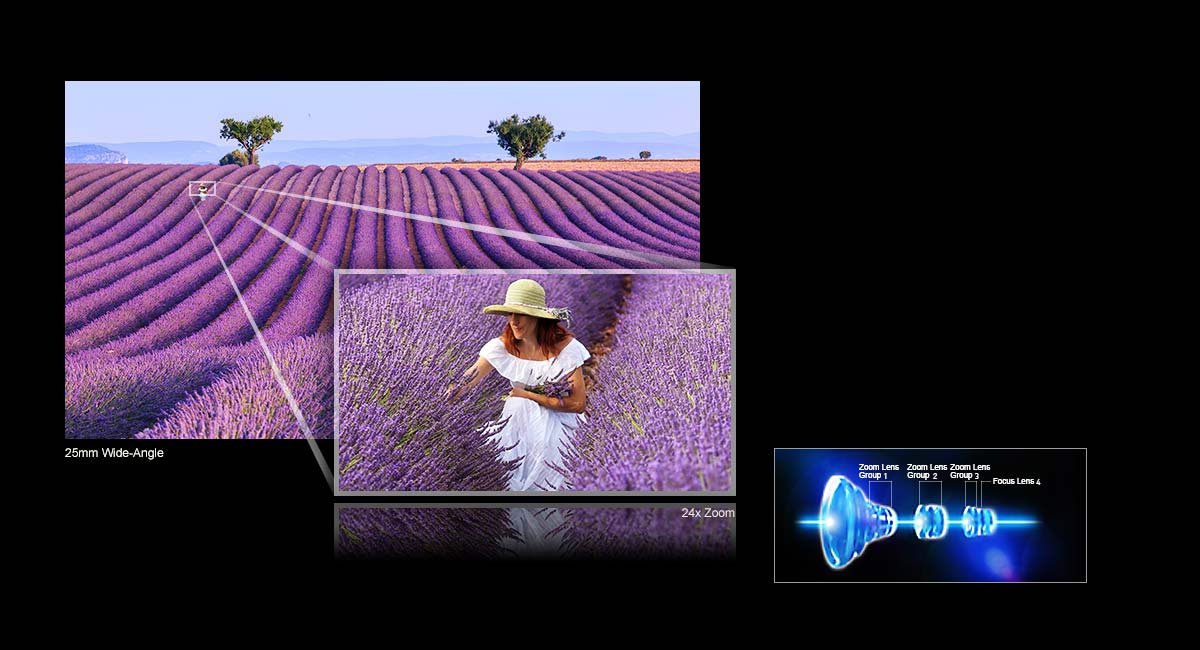 Wide 25 mm* and optical 24x zoom lens
The new lens covers the range from 25 mm wide-angle to 600 mm tele with a 24x zoom achieved by a 4-Drive Lens System. The stunning wide-angle setting not only fits large groups of people and background images into narrow locations, but is also convenient for taking selfies with a rotatable LCD. * 35 mm camera equivalent. Available only with 24p mode.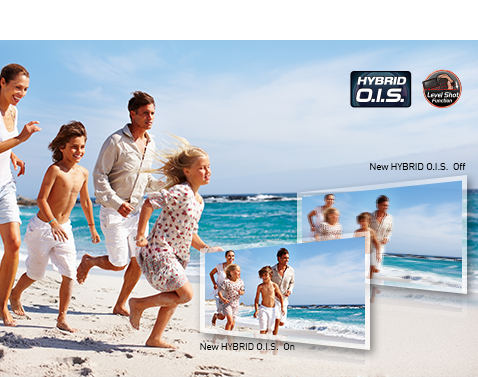 HYBRID O.I.S.
5-Axis HYBRID O.I.S. +
Uses five-axis correction to thoroughly suppress blurring all the way from wide-angle to powerful zoom shots.
Adaptive O.I.S.
Automatically optimizes the O.I.S. effectiveness by adjusting the O.I.S. mechanical control to various shooting positions, conditions, and user characteristics.
Ball O.I.S. System
Reduces wear on the drive section, and greatly improves correction for small-amplitude hand-shake.
Level Shot Function
Automatically detects and corrects the tilting of captured images.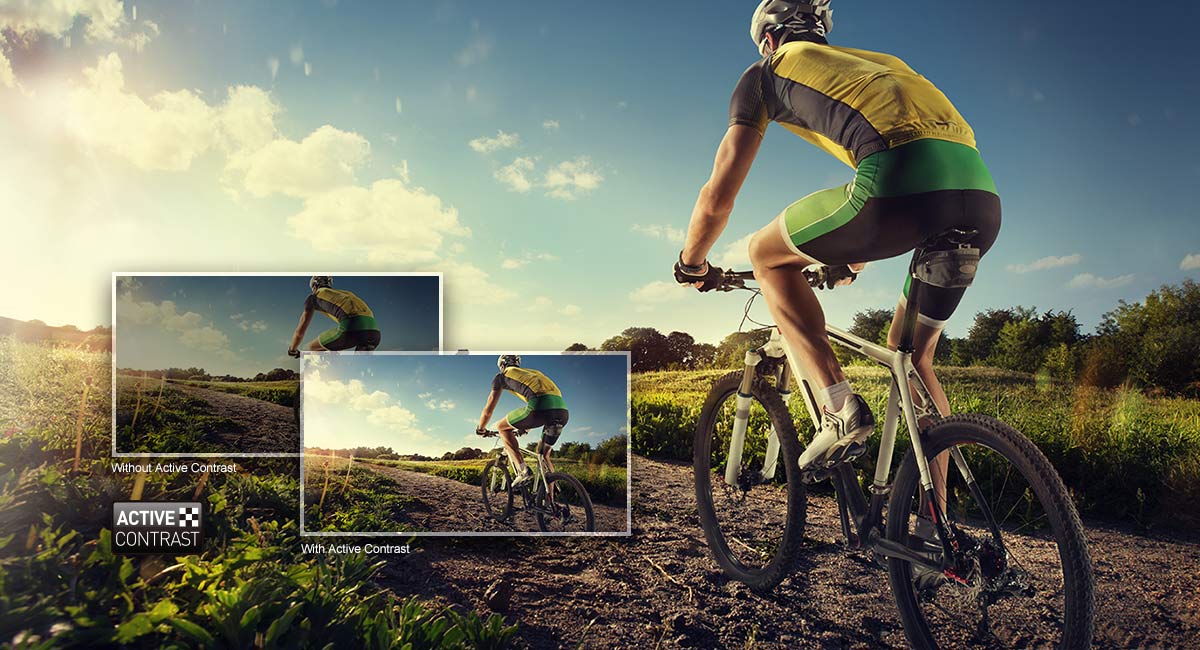 Active Contrast
Automatically equalizes the gradation in response to the brightness distribution within the image. Also improves contrast in low brightness areas of dark and back-lit scenes, and avoids blocked shadows.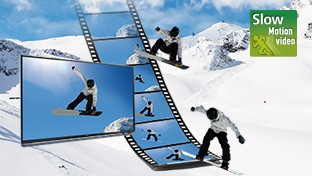 Slow Motion Video
Smooth slow motion video makes it possible to portray the emotional sensation of everyday scenes.
Wireless Multi Camera
Using Wi-Fi, you can double the shooting fun by linking to as many as three smartphones and simultaneously recording up to two of them as sub-windows.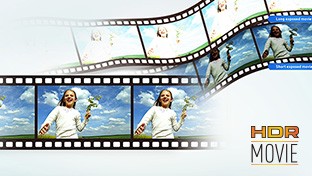 HDR Movie
Even in difficult shooting situations, such as backlighting, you can easily capture natural videos with excellent, realistic gradation.
SENSOR SECTION
SENSOR FOR MAIN CAMERA - Image Sensor
1/2.5-inch BSI MOS Sensor
SENSOR FOR MAIN CAMERA - Total Pixels
8.57 megapixels
SENSOR FOR MAIN CAMERA - Effective Pixels [Motion Image]
6.17 megapixels [16:9] (Level Shot Function OFF or Normal)
SENSOR FOR MAIN CAMERA - Effective Pixels [Still Image]
8.29 megapixels [16:9] 6.22 megapixels [4:3]
SENSOR FOR SUB CAMERA - Image Sensor
-
SENSOR FOR SUB CAMERA - Total Pixels
-
LENS SECTION
LENS FOR MAIN CAMERA - F Value
F1.8 (WIDE) / F4.0 (TELE)
LENS FOR MAIN CAMERA - Optical Zoom
24x
LENS FOR MAIN CAMERA - Focal Length
4.12 – 98.9 mm (Optical Zoom:24x)
LENS FOR MAIN CAMERA - 35 mm Film Camera Equivalent [Motion Image (16:9)]
24p: 25 – 600 mm*, 60p/60i/30p: 28.9 – 693.7 mm* * 16:9, Level Shot Function OFF or Normal
LENS FOR MAIN CAMERA - 35 mm Film Camera Equivalent [Still Image]
25.0mm – 600mm (16:9) / 30.6mm – 734.4mm (4:3)
LENS FOR MAIN CAMERA - Filter Diameter
62 mm
LENS FOR MAIN CAMERA - Lens Brand
Leica Dicomar Lens
LENS FOR SUB CAMERA - F Value
–
LENS FOR SUB CAMERA - Focal Length
–
LENS FOR SUB CAMERA - 35 mm Film Camera Equivalent [Motion Image]
–
CAMERA SECTION
Standard Illumination
1400 lx
Minimum Illumination
1.5 lx (Scene Mode Low Light 1/30), 0.5 lx (Night Mode (Color))
Focus
Auto / Manual
Zoom - Intelligent OFF
24x
Zoom - Intelligent ON
48x
Zoom - Digital
70x / 1500x (The maximum value of zoom magnification can be set in two patterns)
White Balance
Auto / White Set / Sunny / Cloudy / Indoor1 / Indoor2
Shutter Speed - Motion Image
Auto Slow Shutter ON : 1/30 – 1/8000 (60p / 60i / 30p), 1/24 – 1/8000 (24p) Auto Slow Shutter OFF: 1/60 – 1/8000 (60p / 60i / 30p), 1/48 – 1/8000 (24p)
Shutter Speed - Still Image
1/2 – 1/2000
Iris
Auto / Manual
Image Stabilizer
5-axis HYBRID O.I.S.+ with Active Mode, O.I.S. Lock, Level Shot Function, Ball O.I.S., Adaptive O.I.S.
Active Cotnrast
Yes
HDR Movie (Except 4K Mode)
Yes
Creative Control (Except 4K Mode)
Miniature Effect, Silent Movie, 8mm Movie, Time Lapse Rec
RECORDING SECTION
Recording Media
SD/SDHC/SDXC Memory Card
Recording Format
[AVCHD] AVCHD Progressive [MP4] MP4
Compression Method
MPEG-4 AVC/H.264
Recording/ Playback Mode - AVCHD
1080/60p (28Mbps / VBR), (1920 x 1080/60p) PH (24Mbps / VBR), (1920 x 1080/60i) HA (17Mbps / VBR), (1920 x 1080/60i) HG (13Mbps / VBR), (1920 x 1080/60i) HE (5Mbps / VBR), (1920 x 1080/60i)
Recording/ Playback Mode - MP4
1080p/60p(50M) (50Mbps / VBR), (1920 x 1080) 1080p/60p(28M) (28Mbps / VBR), (1920 x 1080) 1080p/24p(50M) (50Mbps / VBR), (1920 x 1080) 720p/30p(9M) (9Mbps / VBR), (1280 x 720)
Recording/ Playback Mode - iFrame
-
Actual Recordable Time with Supplied Battery (LCD OFF)
Approx. 50 min (60p mode) Approx. 50 min (PH mode) Approx. 50 min (HA mode) Approx. 50 min (HG mode) Approx. 50 min (HE mode) Approx. 55 min (1080p/24p) Approx. 50 min (MP4 50M) Approx. 50 min (MP4 28M) Approx. 1 h 0 min (MP4 720p)
Thumbnail Display
6 thumbnails/page, 1 thumbnail/page
Audio Recording System
AVCHD: Dolby Audio (5.1ch / 2ch) MP4: AAC (2ch)
Microphone
5.1ch Surround, Zoom, Focus and Stereo Microphone
Speaker
Dynamic type
STILL IMAGE SECTION
Recording Format
JPEG (DCF/Exif2.2)
Recording Image Size - Still Image
[16:9] 25.9megapixels (6784 x 3816), 14 megapixels (4992 x 2808), 2.1 megapixels (1920 x 1080) [4:3] 20.4 megapixels (5216 x 3912), 10.9 megapixels (3808 x 2856), 0.3 megapixels (640 x 480)
Recording Image Size - Simultaneous Recording
[16:9] 14.0 megapixels (4992 x 2808), 2.1 megapixels (1920 x 1080)
Flash
-
GENERAL SECTION
Power Supply
3.6V (Battery) / 5.0V (AC Adaptor)
Power Consumption
Max. 6.2W (Recording) / Max. 7.7W (Charging)
Dimensions (W x H x D)
Approx. 68 x 77 x 142 mm (2.677 x 3.032 x 5.591 inch)
Weight (w/o battery and SD card)
Approx. 428 g (0.944 lb)
LCD Monitor
3.0-inch Wide LCD monitor (460,800 dots)
Touch Panel
Yes
View Finder
–
Manual Ring / Dial
–
Interface - AV
–
Interface - HDMI
Yes (micro)
Interface - Microphones (stereo mini)
Yes
Interface - LINE-IN (stereo mini)
–
Interface - Headphone (stereo mini)
Yes
Interface - USB
2.0 Hi-Speed
Interface - USB Charge
Yes
LED Video Light
–
Accessory Shoe
Yes (cold)
Lens Cover
Yes (Auto)
On-Screen Display Language
English, French, Spanish, Chinese Traditional
Wi-Fi
Standard
IEEE 802.11b/g/n
Frequency
2.4GHz band
NFC
–
STANDARD ACCESSORY
AC Adaptor
Yes
AC Cable
–
DC Cable
Yes (USB Type)
Rechargeable Battery Pack
Yes (1,940mAh)
Battery Charger
–
IR Remote
–
HDMI Cable
Yes (micro)
AV Multi Cable
–
AV Cable
–
Shoe adaptor
– (Built-in)
Lens Hood
Yes
USB Cable
Yes
Editing Software
HD Writer AE 5.4 (Download)