For True Creative Vision
When you look through the Tiltable LVF of your LUMIX GX9, the world is completely yours. Enjoy 20.3 Mpx resolution, monochrome effects, and 4K PHOTO mode featuring 30-fps shooting. This highly compact, slim camera is always at the ready to turn your photographic imagination into incredible shots.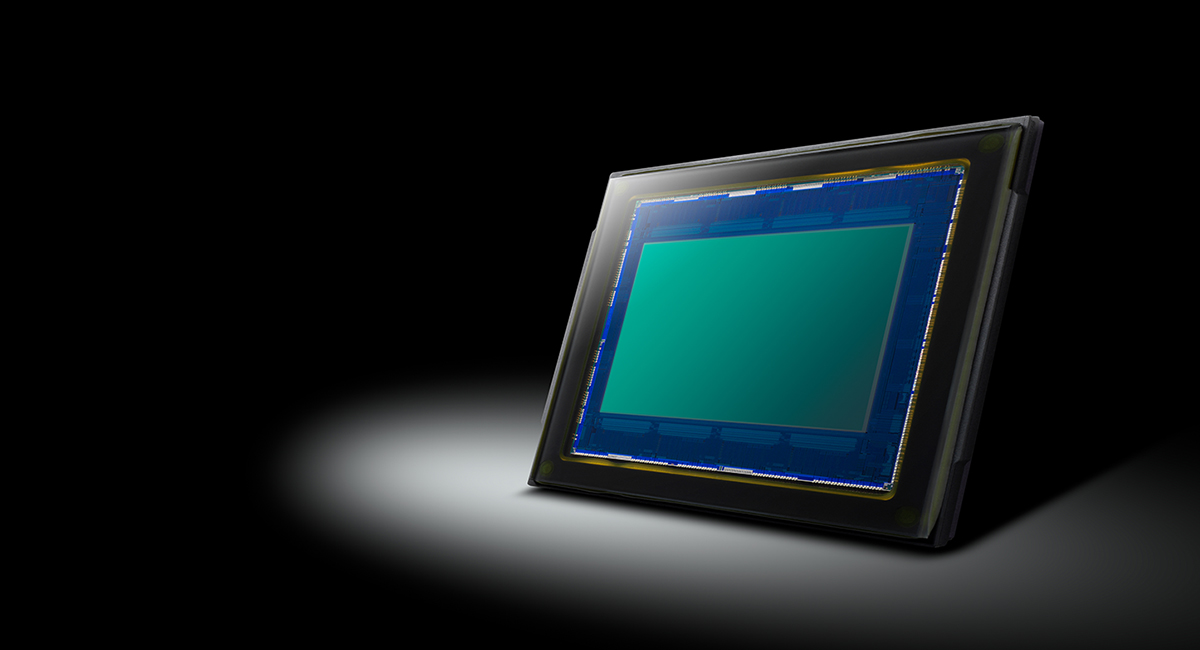 20.3 Mpx pixel-perfect photos
The LUMIX GX9 packs a real punch with its high performance Digital Live MOS sensor sporting a whopping 20.3-megapixel to achieve uncompromising picture quality. Together with the removal of the low-pass filter from the sensor, you can confidently capture the sharpest ever imagery with a high dynamic range and artifact-free. The LUMIX GX9 is a camera of beauty created by you and crafted by Panasonic engineering.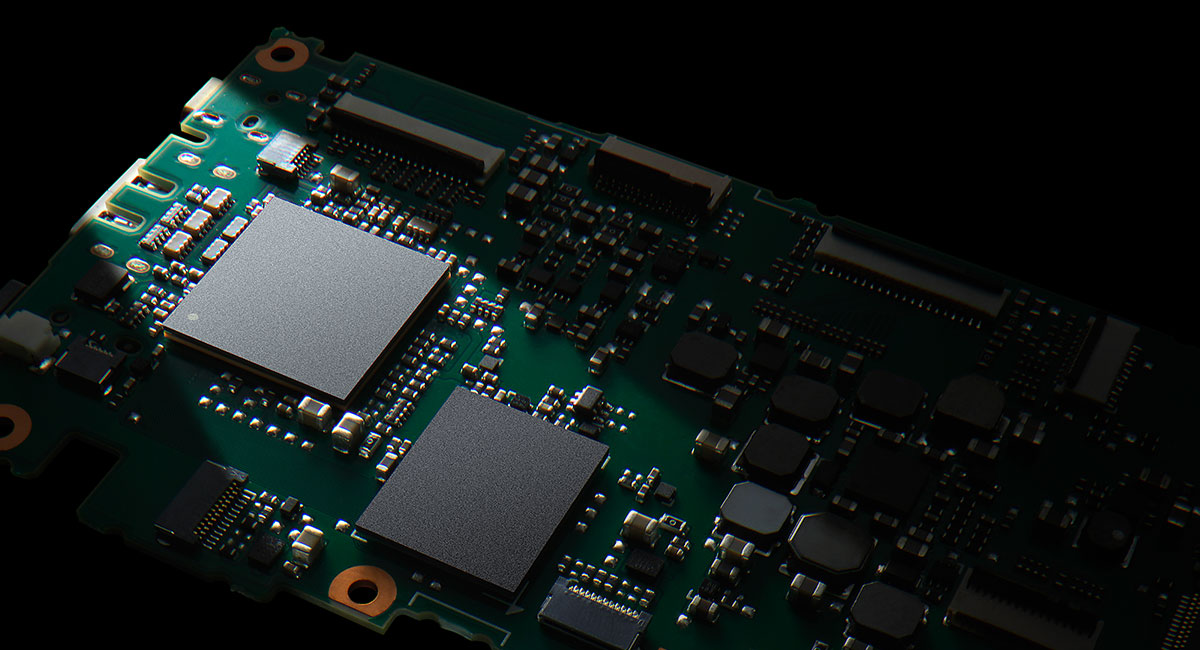 Venus Engine - Impressive colour reproduction
Shoot high-quality, true-to-life images with excellent resolution, high contrast, and impressive colour reproduction. Combining the Digital Live MOS Sensor and Venus Engine renders clear images with minimum noise even in low-light situations and maximum sensitivity (ISO 25600).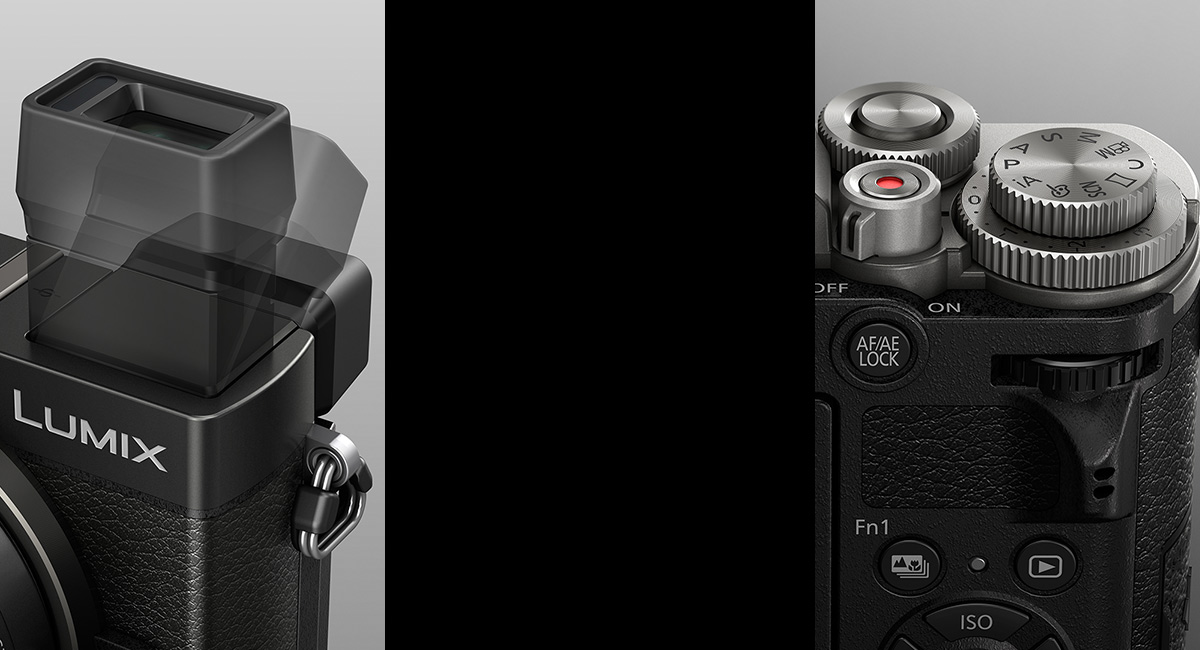 Intuitive viewfinder control
The Tiltable LVF (Live View Finder) is perfect for framing your shot and capturing every detail you require, even from a low-angle. It boasts 2,760K-dot equivalent high resolution and approximately 100% colour reproduction for high visibility under any circumstances. The LUMIX GX9 also provides an intuitive level of operation. The front/rear dials control the main aperture and shutter speed settings, for easy, no-look white balance and ISO adjustments. In addition, a dedicated dial makes it easy to adjust exposure compensation.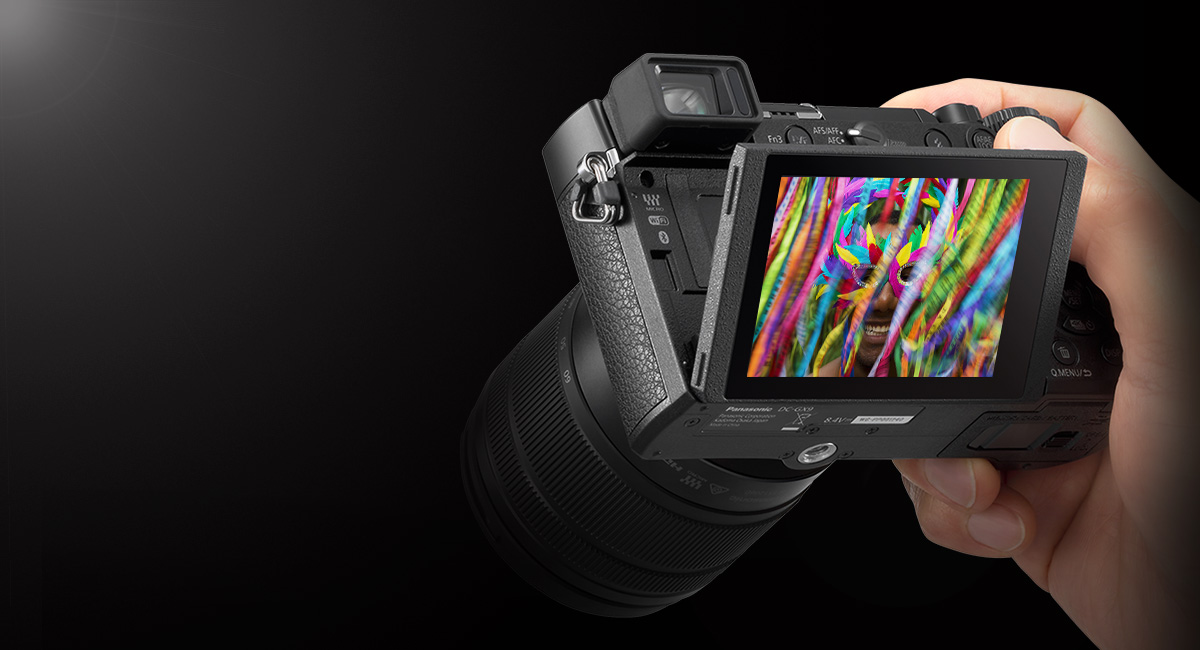 1240K-dot Tiltable Monitor
The large 3.0-inch, approximately 1240K-dot static-type touch monitor tilts upward by 80 degrees and downward by 45 degrees. It enables dynamic framing for artistic low-angle shots, like when shooting at nearly ground level, and is highly practical for high-angle shots, like when you need to shoot over the heads of people at a parade or a party.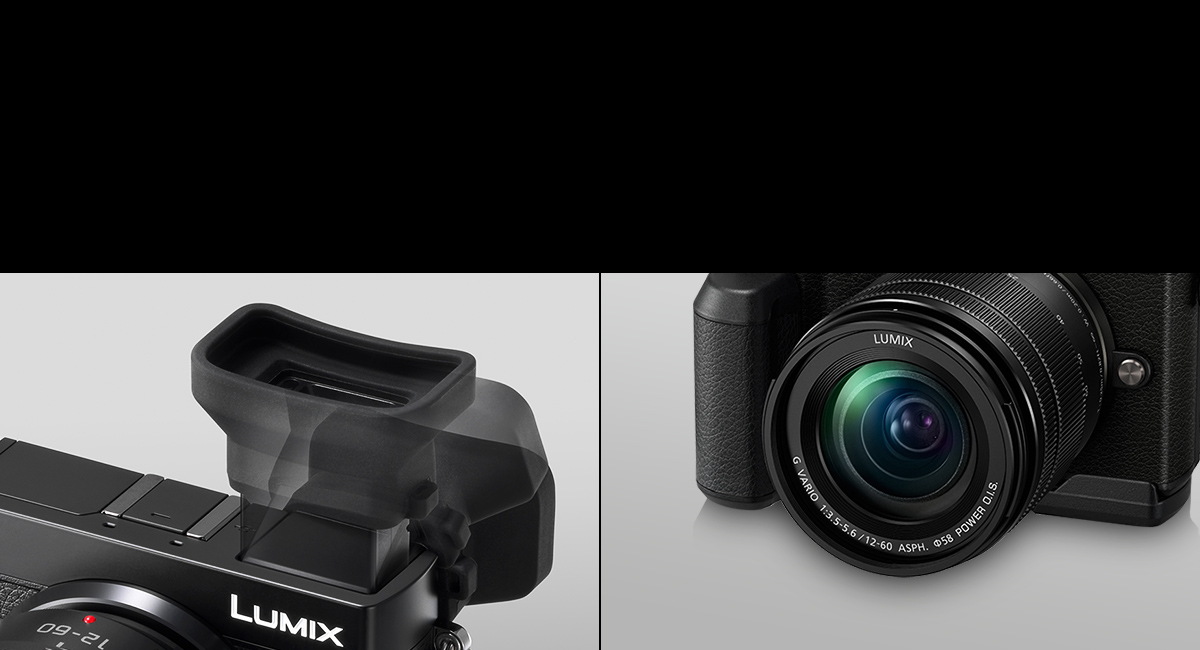 Optional accessories
These options have been specially designed to enhance the LUMIX GX9 operation. The DMW-EC5 Eyecup makes the image on the LVF (Live View Finder) easier to see by blocking unwanted light. It snugly fits the eye for greater viewing comfort. The DMW-HGR2 Hand Grip was crafted to give the LUMIX GX9 a more stable hold. The generous use of aluminum and a carefully machined grip add an elegant design that ideally matches the camera.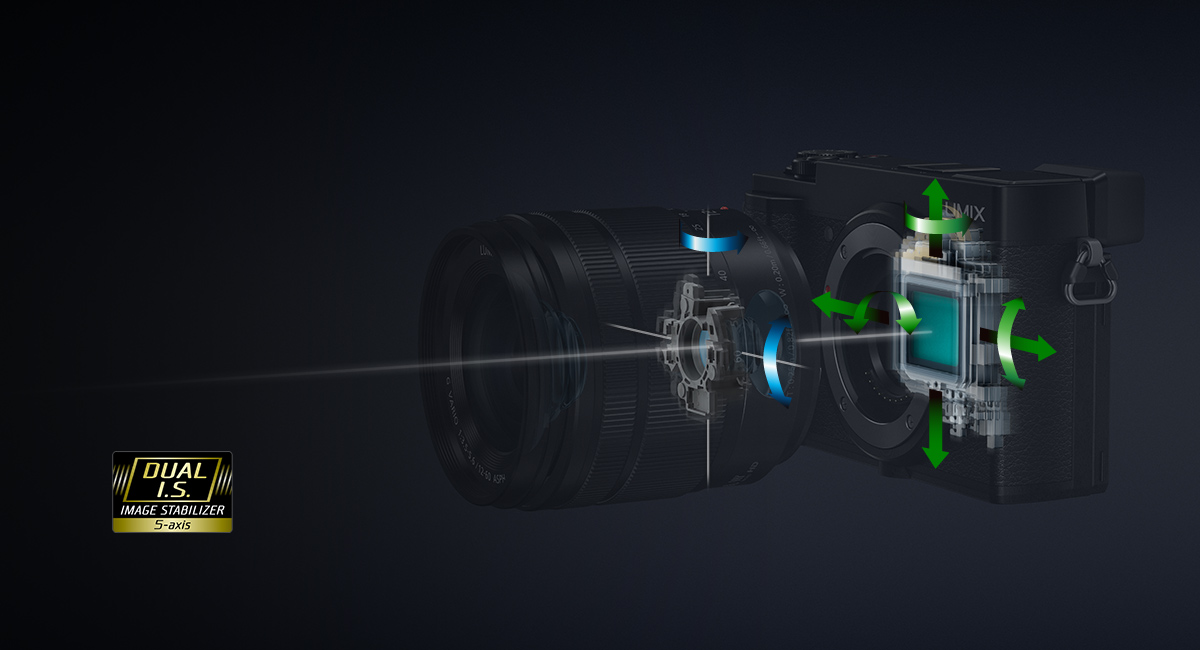 On the move —5-axis Dual I.S. and 5-axis Body I.S.
Ideal for capturing life on the go, the LUMIX GX9 integrates a 5-axis Dual I.S. (Image Stabilizer), combining body and lens stabilization to gain more powerful handshake correction. The 5-axis Dual I.S. works in both photo and motion picture recording, including 4K video from wide to telephoto. It is also beneficial even in low light situations, and makes it possible to use a 4-stop slower shutter speed*. The astonishing power of the 5-axis Body I.S. corrects shake for all lenses, even those not equipped with O.I.S. * Based on the CIPA standard [Yaw/Pitch direction: focusing distance f=60 mm(35 mm camera equivalent f=120 mm), when H-FS12060 is used.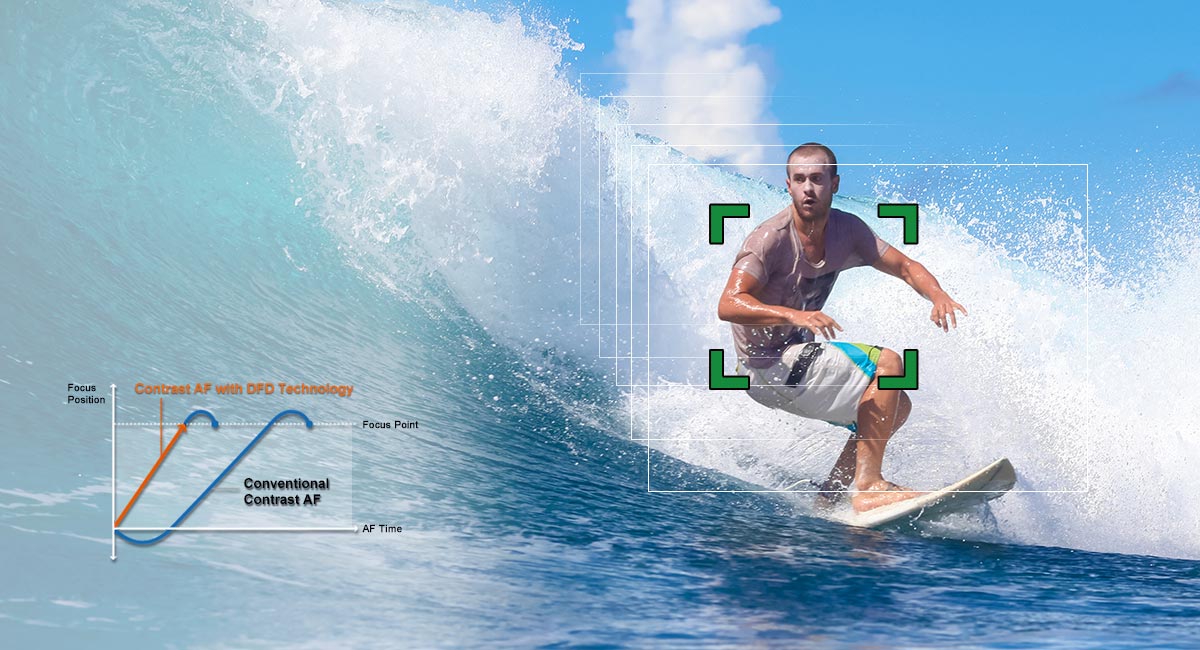 Fast AF with DFD Technology
Panasonic's DFD (Depth From Defocus) technology* instantly calculates the distance to the subject by evaluating two images with different sharpness levels, and achieves ultra-high-speed AF. Also, the LUMIX GX9 has tuned AF precision to follow moving objects and shoot in dim lighting with more precise AF performance. This system results in faster AF speeds up to approximately 0.07 seconds** and a burst shooting speed with AFC of 6 frames per second. A 9 frames per second burst shooting with AFS is also possible. * Contrast AF with DFD technology works only with Panasonic Micro Four Thirds lenses. ** In AFS, at wide-end with H-FS14140 (CIPA).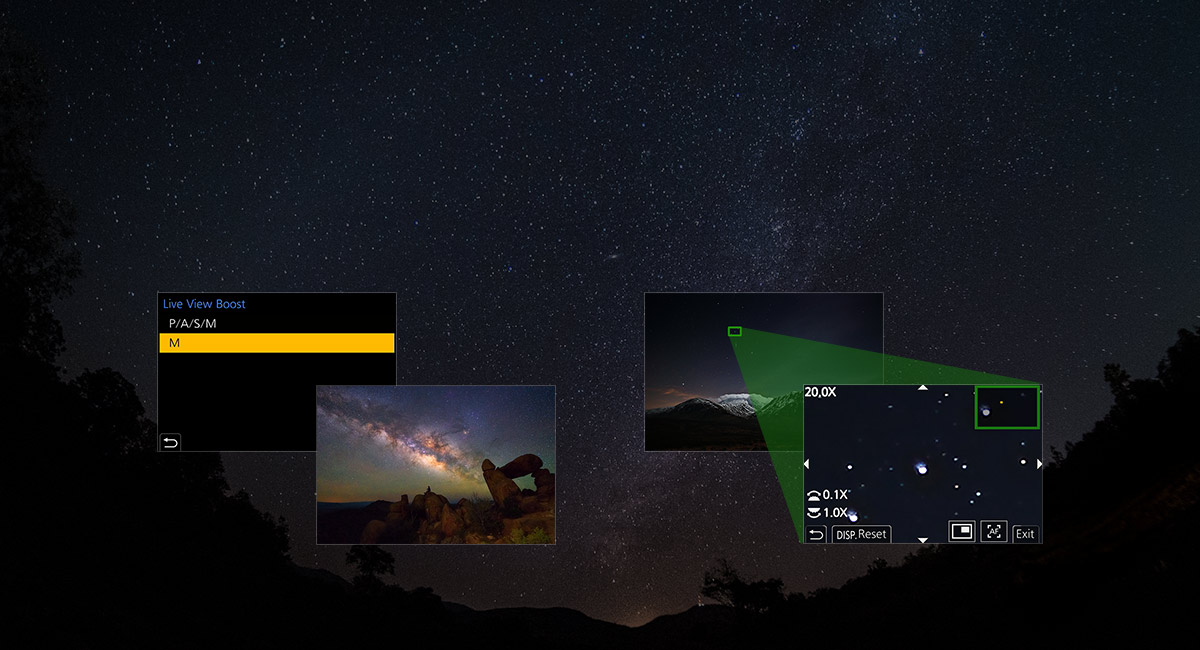 Functions for night-time shooting
Live View Boost The display is brightened by lowering the frame rate and increasing the gain. This lets you shoot while framing, even in extremely dark situations. MF Assist 20x The MF Assist display has been enlarged up to 20x. Accurate focusing is possible even on tiny objects like stars.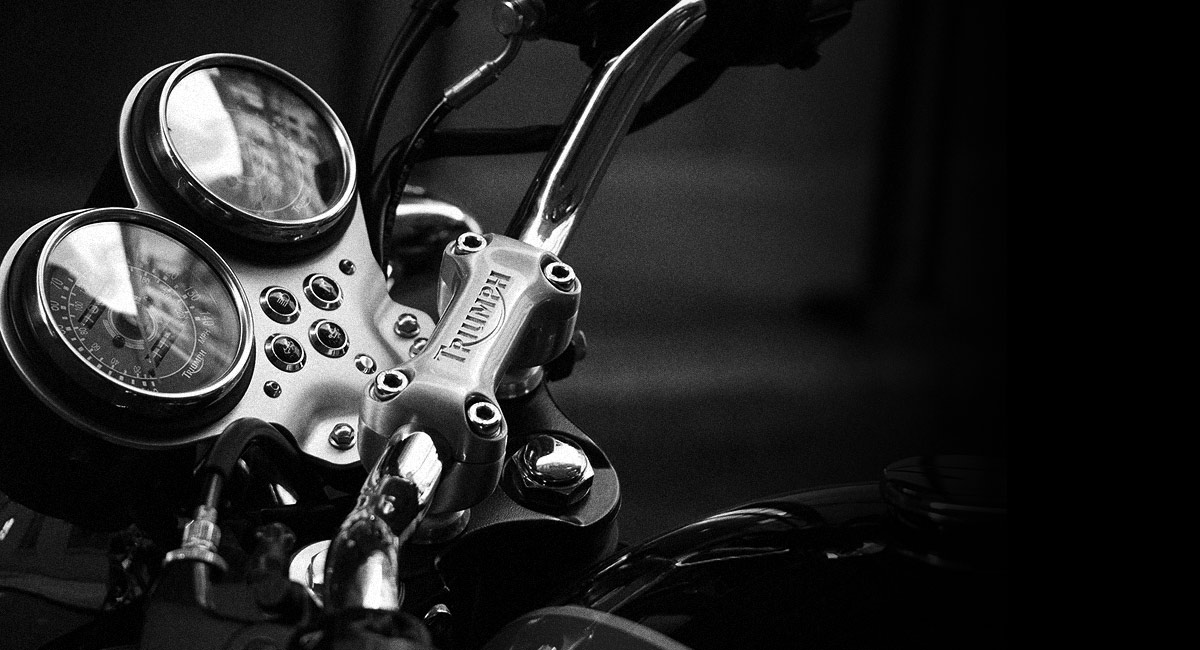 Monochrome options
L. Monochrome D is a new monochrome mode in Photo Style that features even finer gradations. Along with Monochrome and L. Monochrome, it gives you the dynamic control to help take black-and-white expressiveness to the next level. In addition, each of these modes can be combined with Grain Effect at Low, Standard, or High level. When you have the appeal of monochrome film at your fingertips with rich black tones and grainy textures, even ordinary scenes can become something remarkable.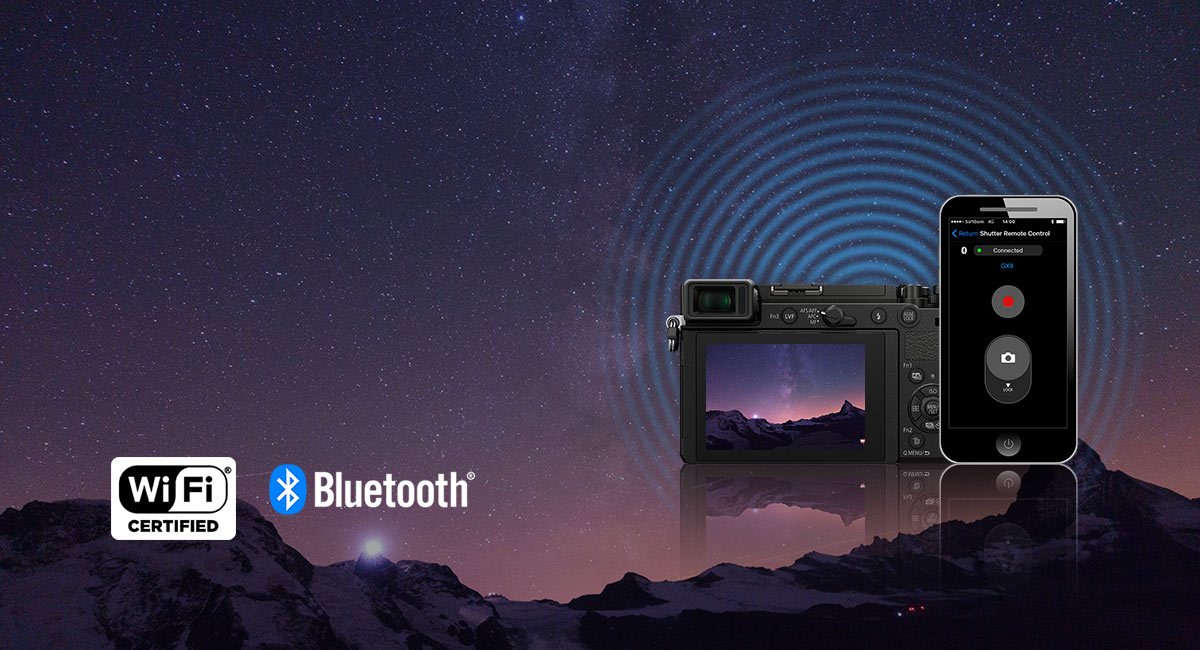 Remote Control — Bluetooth 4.2 & Wi-Fi®
Bluetooth 4.2 (Low Energy) enables shutter release and video record Start / Stop without physically touching the camera. It also enables full-time connection between camera and smartphone with low energy consumption. After shooting, it automatically switches to Wi-Fi connection, transferring data to your smartphone. You can use 'Panasonic Image App' for Android / iOS to control shutter and other settings. ・The Wi-Fi CERTIFIED™ Logo is a certification mark of Wi-Fi Alliance®. ・The Bluetooth® word mark and logos are registered trademarks owned by Bluetooth SIG, Inc. and any use of such marks by Panasonic Corporation is under license. Other trademarks and trade names are those of their respective owners.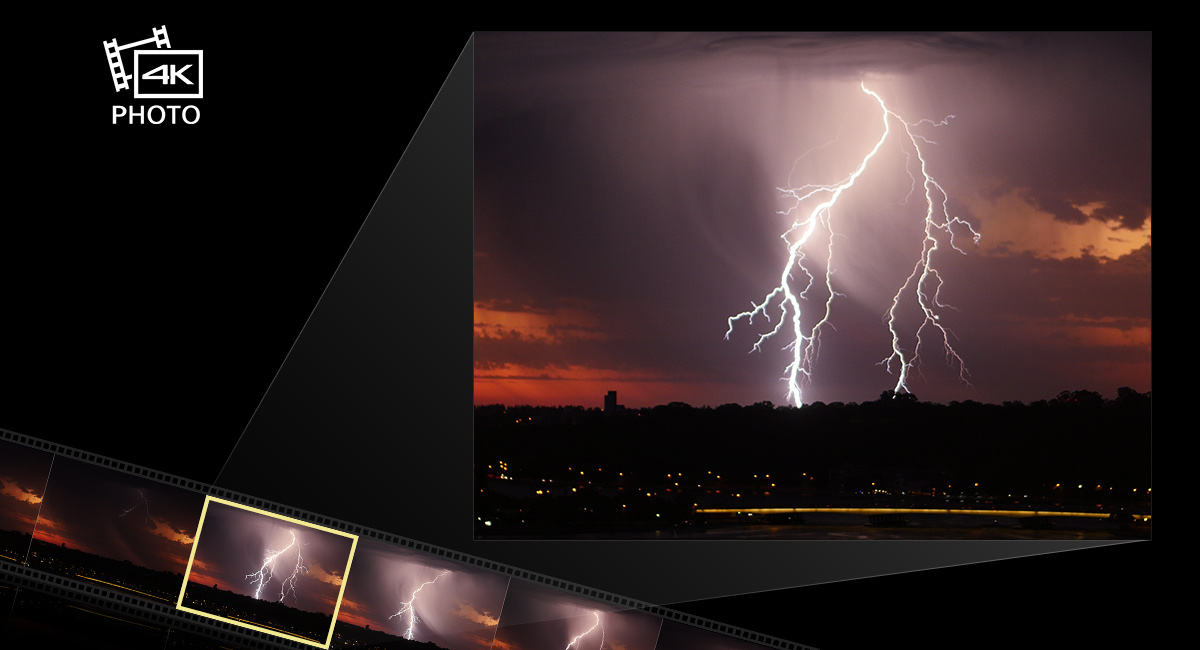 Never Miss the Perfect Moment — 4K PHOTO
Our 4K PHOTO feature lets you capture the perfect moment by selecting a frame from a video sequence (shot at 30 frames per second) in camera, and saving it as an individual high-res image with approximately 8-megapixel resolution. Simply shoot, select and save, to make those fleeting moments unmissable.

4K PHOTO Auto Marking
Choose your best shots, whether it's a bird taking flight, a balloon bursting, or a person glancing backward, the camera detects the motion or your subject's face and automatically sets a marker. When selecting shots, you can quickly skip to that sequence.

4K PHOTO Sequence Composition
Catch the trajectory of a dynamic action in a single photo then simply choose the frames that you want from the 4K PHOTO file to compose them into an action-packed shot.
4K Video — 4x the pixel count of FHD
Whether you are watching movies or editing videos, 4K delivers a far more intense viewing experience than you have seen before. Its native resolution of 3,840 x 2,160 pixels is 4x larger than Full HD, resulting in a much higher level of detail. ・When recording videos in 4K, use a card rated as UHS Speed Class 3.
Type
Type
Digital Single Lens Mirrorless camera
Recording media
SD Memory Card, SDHC Memory Card, SDXC Memory Card (Compatible with UHS-I UHS Speed Class 3 standard SDHC / SDXC Memory Cards)
Image sensor size
17.3 x 13.0 mm (in 4:3 aspect ratio)
Lens mount
Micro Four Thirds mount
Image Sensor
Type
Live MOS Sensor
Total pixels
21.77 Megapixels
Camera effective pixels
20.30 Megapixels
Colour filter
Primary colour filter
Dust reduction system
Supersonic wave filter
Image Stabilization System
IMAGE STABILIZATION SYSTEM
Image sensor shift type (5-axis / 4-stop*), Dual I.S. compatible * Based on the CIPA standard [Yaw/Pitch direction: focusing distance f=60 mm (35 mm camera equivalent f=12 0mm), when H-FS12060 is used.]
RECORDING SYSTEM
Recording file format - Still image
JPEG (DCF, Exif 2.31), RAW
Recording file format - 4K PHOTO
MP4
Recording file format - Motion picture
AVCHD Progressive, AVCHD (Audio format: Dolby Audio 2ch) MP4: H.264/MPEG-4 AVC (Audio format: AAC (2ch)
Aspect ratio
4:3, 3:2, 16:9, 1:1
Image quality
RAW, RAW+Fine, RAW+Standard, Fine, Standard
Colour Space
sRGB, AdobeRGB
File size (Pixels) - Still Image - 4:3
5184 x 3888 (L) / 3712 x 2784 (M) / 2624 x 1968 (S) / 3328 x 2496 (4K PHOTO)
File size (Pixels) - Still Image - 3:2
5184 x 3456 (L) / 3712 x 2480 (M) / 2624 x 1752 (S) / 3504 x 2336 (4K PHOTO)
File size (Pixels) - Still Image - 16:9
5184 x 2920 (L) / 3840 x 2160 (M) / 1920 x 1080 (S) / 3840 x 2160 (4K PHOTO)
File size (Pixels) - Still Image - 1:1
3888 x 3888 (L) / 2784 x 2784 (M) / 1968 x 1968 (S) / 2880 x 2880 (4K PHOTO)
File size (Pixels) - Motion picture** - MP4**[4K] 3840 x 2160
4K/30p: 100Mbps 4K/24p: 100Mbps
File size (Pixels) - Motion picture** - MP4**[Full HD] 1920 x 1080
FHD/60p: 28Mbps FHD/30p: 20Mbps
File size (Pixels) - Motion picture** - MP4**[HD] 1280 x 720
HD/30p: 10Mbps
File size (Pixels) - Motion picture** - AVCHD**[Full HD] 1920x1080
FHD/60p: 28Mbps, 60p recording FHD/60i: 17Mbps, 60i recording FHD/30p: 24Mbps, 60i recording (sensor output is 30fps) FHD/24p: 24Mbps, 24p recording
Continuous recordable time (Motion picture)**
AVCHD [FHD/60p] Approx. 90 min (rear monitor), 80 min (LVF) with H-FS12032 / H-FS12060 AVCHD [FHD/60i] Approx. 90 min (rear monitor), 80 min (LVF) with H-FS12032 / H-FS12060 MP4 [4K/30p] Approx. 70 min (rear monitor), 70 min (LVF) with H-FS12032 / H-FS12060
Actual recordable time (Motion picture)**
AVCHD [FHD/60p] Approx. 45 min (rear monitor), 40 min (LVF) with H-FS12032 / H-FS12060 AVCHD [FHD/60i] Approx. 45 min (rear monitor), 40 min (LVF) with H-FS12032 / H-FS12060 MP4 [4K/30p] Approx. 35 min (rear monitor), 35 min (LVF) with H-FS12032 / H-FS12060
WIRELESS
Wi-fi
IEEE 802.11b/g/n, 2412 MHz - 2462 MHz (1-11 ch), Wi-Fi / WPA / WPA2, Infrastructure mode
Bluetooth
Bluetooth® v4.2 (Bluetooth Low Energy (BLE))
QR code connection / Password-less connection
Yes / Yes (ON / OFF selectable)
Viewfinder
Type
LCD Live View Finder (2,760K dots equivalent), Tiltable
Field of view
Approx. 100%
Magnification
Approx. 1.39x / 0.7x (35 mm camera equivalent) with 50 mm lens at infinity; -1.0 m-1
Eye point
Approx. 17.5 mm from eyepiece lens
Diopter adjustment
-4.0 - +3.0 (dpt)
Eye sensor
Yes
Focus
Type
Contrast AF system
DFD technology
Yes
Post Focus
Yes
Focus Stacking
Yes
Focus mode
AFS (Single) / AFF (Flexible) / AFC (Continuous) / MF
AF mode
Face/Eye Detection / Tracking / 49-Area / Custom Multi / 1-Area / Pinpoint (Full area touch is available)
AF detective range
EV -4 - 18 (ISO100 equivalent)
Starlight AF
Yes
AF assist lamp
Yes
AF lock
Yes (AF/AE LOCK button)
Others
One Shot AF, Shutter AF, Half Press Release, Quick AF, Continuous AF (during motion picture recording), Eye Sensor AF, AF+MF, MF Assist, Touch MF Assist, Focus Peaking, Touch AF/AE Function, Touch Pad AF, Touch Shutter
Exposure Control
Light metering system
1728-zone multi-pattern sensing system
Light metering mode
Multiple / Center Weighted / Spot
Metering range
EV 0 - 18 (F2.0 lens, ISO100 equivalent)
Exposure mode
Program AE, Aperture Priority AE, Shutter Priority AE, Manual
ISO sensitivity (Standard Output Sensitivity)
Still image: Auto / Intelligent ISO / 100 (Extended) / 200 / 400 / 800 / 1600 / 3200 / 6400 / 12800 / 25600 (Changeable to 1/3 EV step) Creative Video Mode: Auto / 100 (Extended) / 200 / 400 / 800 / 1600 / 3200 / 6400 (Changeable to 1/3 EV step)
Exposure compensation
1/3 EV step, ±5EV (when set with the menu) (±3 EV for motion picture), ±3EV (when set with the dial)
AE lock
Yes (AF/AE LOCK button)
White Balance
White balance
AWB / AWBc / Daylight / Cloudy / Shade / Incandescent / Flash / White Set 1, 2, 3, 4 / Colour temperature setting 1, 2, 3, 4
White balance adjustment
Blue/Amber bias, Magenta/Green bias
Colour temperature setting
2500-10000K in 100K
Shutter
Type
Focal-plane shutter
Shutter speed
Still image: Time* (Max. 30 minutes), 1/4,000 - 60*Bulb mode is possible with the "Image App" remote control via Bluetooth. Electronic shutter: 1/16,000 - 1 Motion picture: 1/16,000 - 1/25
Self timer
10sec, 3 images / 2sec / 10sec
BRACKET
AE bracket
3, 5, 7 images in 1/3, 2/3 or 1 EV step, max. ±3 EV, single/burst
Aperture Bracket
3, 5 or all positions in 1 EV step
Focus Bracket
1 to 999 images, focus steps can be set in 10 levels
White balance bracket
3 images in blue/amber axis or in magenta/green axis
PANORAMA SHOT
Panorama Shot
Yes (Standard / Wide)
BURST SHOOTING
Burst speed
[Mechanical shutter] AFS/MF: H: 9 frames/sec, M: 6 frames/sec (with Live View), L: 2 frames/sec (with Live View) *When H-FS12032 is used. AFF/AFC: H: 6 frames/sec, M: 6 frames/sec (with Live View), L: 2 frames/sec (with Live View) *When H-FS12032 is used. [Electronic shutter] AFS/MF: H: 9 frames/sec, M: 6 frames/sec (with Live View), L: 2 frames/sec (with Live View) AFF/AFC: H: 6 frames/sec, M: 6 frames/sec (with Live View), L: 2 frames/sec (with Live View)
Number of recordable images
More than 30 images (when there are RAW files with the particular speed) More than 100 images (when there are no RAW files) (depending on memory card type, aspect, picture size and compression)
4K PHOTO**
Burst speed
30 frames/sec
Exif information
Yes (Each JPEG image cropped out of the 4K burst file complies with EXIF.)
Marking function
Auto / Face Priority / Motion Priority / Off (Manual) (in 4K Burst mode and 4K Burst (S/S) mode)
Loop rec function
Yes (in 4K Burst (S/S) mode)
TIME LAPSE SHOT
Time Lapse Shot
Yes
STOP MOTION ANIMATION
STOP MOTION ANIMATION
Yes
Flash
Flash type
TTL Built-in-Flash, GN6.0 equivalent (ISO200 ・m) / GN4.2 equivalent (ISO100 ・m) (Reference), Built-in Pop-up
Flash Mode
Auto*, Auto/Red-eye Reduction*, Forced On, Forced On/Red-eye Reduction, Slow Sync., Slow Sync./Red-eye Reduction, Forced Off (* For iA, iA+ only)
Synchronization speed
Less than 1/200 second
Flash output adjustment
1/3EV step ±3EV
Flash synchronization
1st. Curtain Sync., 2nd Curtain Sync.
Synchronization for flash dimming and exposure compensation
Yes
Wireless control
Yes (When using DMW-FL200L / FL360L / FL580L (sold separately)), Wireless Channel: 1ch/2ch/3ch/4ch
SILENT MODE
SILENT MODE
Yes
Rear monitor
Type
TFT LCD monitor with static touch control, Tiltable monitor
Monitor size
3.0-inch (7.5cm) / 3:2 aspect
Pixels
Approx. 1,240K dots
Filed of view
Approx. 100%
Monitor adjustment
Brightness, Contrast, Saturation, Red Tint, Blue Tint
LIVE VIEW
Digital zoom
2x, 4x
Extra Tele Conversion
Still image: Max. 2x Motion picture: 2.7x (FHD), 4.0x (HD)
Other functions
Level Gauge, Real-time Histogram, Guide Lines (3 patterns), Center Marker, Highlight display (Still image / motion picture), Zebra Pattern (Still image / motion picture)
DIRECTION DETECTION FUNCTION
DIRECTION DETECTION FUNCTION
Yes
IMAGE PROTECTION / DELETE
Protection
Single / Multi or Cancel
Delete
Single / Multi / All / Except Rating
Print
Direct Print
PictBridge compatible
Interface
USB
USB 2.0 Micro-B
HDMI***
microHDMI TypeD / VIERA Link Video: Auto / 4K / 1080p / 1080i / 720p / 480p Audio: Stereo
Audio video output
No
Microphone
Stereo, Wind Noise Canceller: OFF / Standard / High
Speaker
Monaural
LANGUAGE
OSD language
Japanese, English, German, French, Italian, Spanish, Portuguese, Chinese (Traditional)
General
POWER - Battery
Li-ion Battery Pack (7.2V, 1025mAh, 7.4Wh) (Included) USB power charging
DIMENSIONS / WEIGHT - Dimensions (W x H x D)
124 x 72.1 x 46.8 mm / 4.88 x 2.83 x 1.84 inch (excluding protrusions)
DIMENSIONS / WEIGHT - Weight
Approx. 450g / 0.99 lb (SD card, Battery, Body) Approx. 407g / 0.90 lb (Body only) Approx. 517g / 1.14 lb (SD card, Battery, H-FS12032 lens included) Approx. 660g / 1.46 lb (SD card, Battery, H-FS12060 lens included)
OPERATING ENVIRONMENT - Operating temperature
0°C to 40°C (32°F to 104°F)
OPERATING ENVIRONMENT - Operating humidity
10% RH to 80% RH
STANDARD ACCESSORIES - Software
・ The software to edit and playback images on computer is not bundled with this camera. To do this, PHOTOfunSTUDIO is available for download at Panasonic website using computer connected to the Internet. http://panasonic.jp/support/global/cs/soft/download/d_pfs10ae.html (For Windows) ・ The software to process RAW file on computer is not bundled with this camera. To do this, SILKYPIX Developer Studio is available for download at Ichikawa Soft Laboratory's website using computer connected to the Internet. http://www.isl.co.jp/SILKYPIX/english/p/ (For Windows / Mac)
STANDARD ACCESSORIES - Standard accessories
DC-GX9M Kit Battery Pack, AC Adaptor, USB Connection Cable, Hot Shoe Cover, Shoulder Strap, Body Cap, Lens Cap, Lens Hood, Lens Rear Cap ・ The DC-GX9 Operating Instructions for advanced features is available for downloaded at Panasonic LUMIX Customer Support Site using PC, smartphone or tablet connected to the Internet.
INTERCHANGEABLE LENS-1
Lens Name
LUMIX G VARIO 12-60 mm / F3.5-5.6 ASPH. / POWER O.I.S.
Lens Construction
11 elements in 9 groups (3 aspherical lenses, 1 ED lens)
Nano Surface Coating
-
Mount
Micro Four Thirds mount
Optical Image Stabilizer
Yes (POWER O.I.S.)
Focal Length
f=12-60 mm (35 mm camera equivalent 24-120 mm)
Aperture Type
7 diaphragm blades / Circular aperture diaphragm
Maximum Aperture
F3.5 (Wide) - F5.6 (Tele)
Minimum Aperture
F22
Closest Focusing Distance
0.20 m / 0.66 ft (Wide), 0.25 m / 0.82 ft (Tele)
Maximum magnification
Approx. 0.27x / 0.54x (35 mm camera equivalent)
Diagonal Angle of View
84.05° (Wide) to 20.44° (Tele)
General - Filter Size
φ58 mm / 2.3 inch
General - Max. Diameter
φ66.0 mm / 2.6 inch
General - Overall Length
Approx. 71 mm (from the tip of the lens to the base side of the lens mount)
General - Weight [g]
Approx. 210 g (excluding lens cap, lens rear cap and lens hood)
General - Weight [oz]
Approx. 7.41 oz (excluding lens cap, lens rear cap and lens hood)