Subwoofer Included
Bass Boost
Adaptive Sound Lite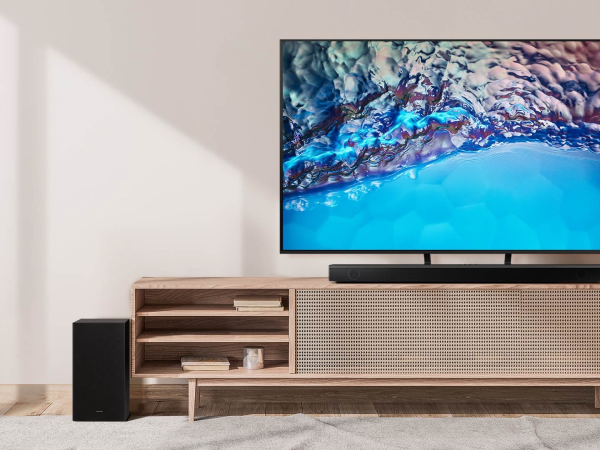 Elevate your experience with 3D surround sound and built in center speaker
Top 4 Features
Dolby Audio/DTS virtual:xml_error_string
Captivating audio that moves the sound around you
Subwoofer Included
Deep,rich bass with a wireless subwoofer
Bass Boost
Extra bass,bigger sensations
Built-in Center Speaker
Crystal clear dailog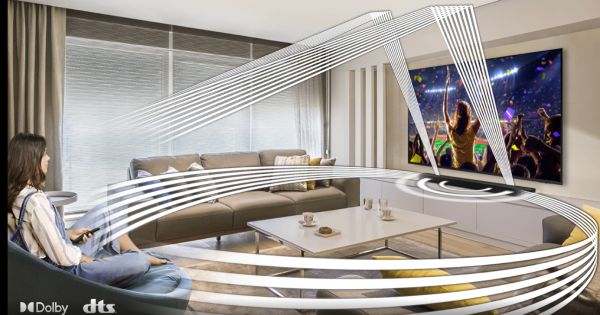 Captivating audio technology that moves the sound around you
Dolby Audio / DTS Virtual:X
DTS Virtual X creates spacious 3D sound, including the feeling of height through audio processing techniques.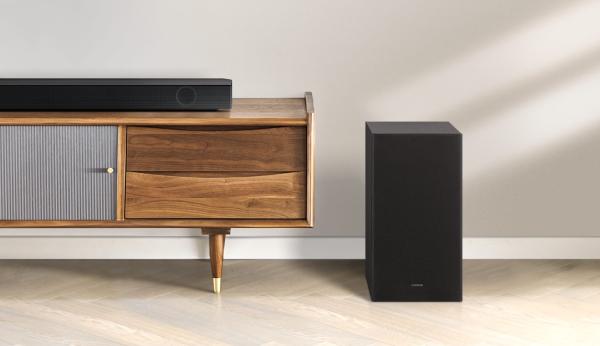 Discover deeper rich like nothing before
Subwoofer included
Kick your listening experience up a notch with the subwoofer included with your Soundbar. It emphasizes bass for incredible sound that hits deeper and smoother notes — delivering theater-quality audio with your Soundbar.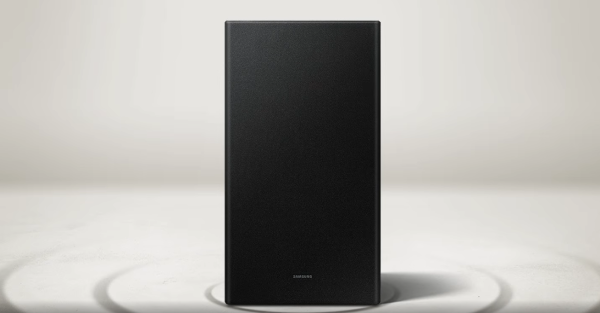 Extra bass, bigger sensations
Bass Boost
When you want to turn up the bass for maximum immersion, activate Bass Boost mode on the Soundbar. The included subwoofer takes the powerful, deeper bass to the next level, surrounding you with a fuller range of sound.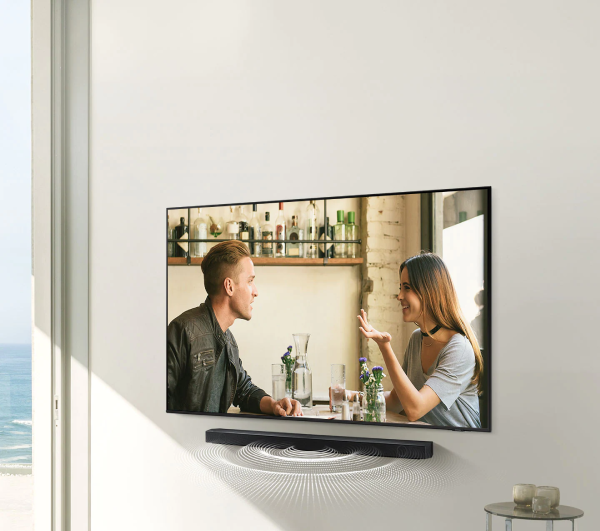 Center channel for clear dialogue
Built-in center speaker
Experience crystal clear dialogue with a dedicated center channel speaker. It provides balanced sound from one end to the other and beautifully completes your home entertainment experience.

Usability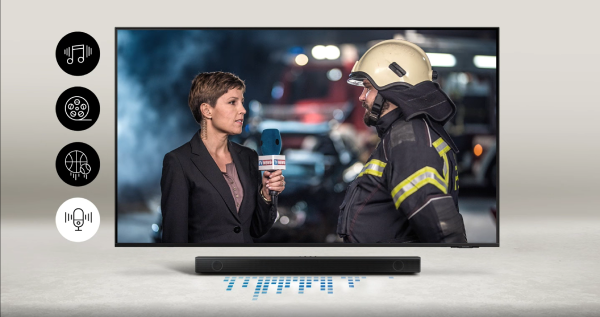 Optimized sound for various content
Adaptive Sound Lite
The soundbar automatically analyzes your sound to optimize the audio track for your specific content.Whether it's a loud sports match or a drama with quite dailog,you can count on the best soundbar to provide clear sounds for optimized TV viewing.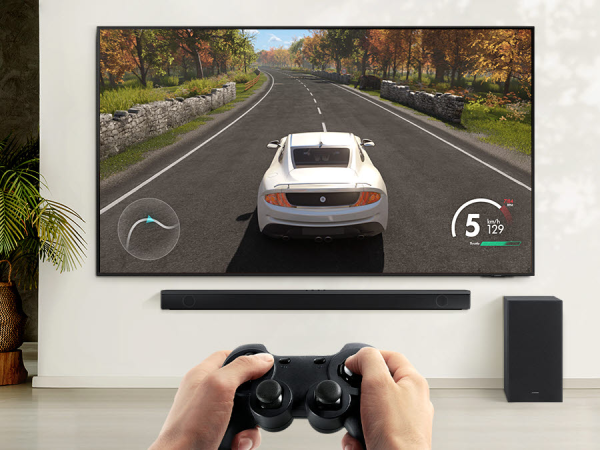 Hear Better,play Better
Game Mode
Plug in your console and get the amazing sound effects you expect,right away.The auto settings optimize your sound to the game you're playing while cross-talk cancellation technology removes distracting sounds so you hear clear audio from the right direction to help you gain the advantage.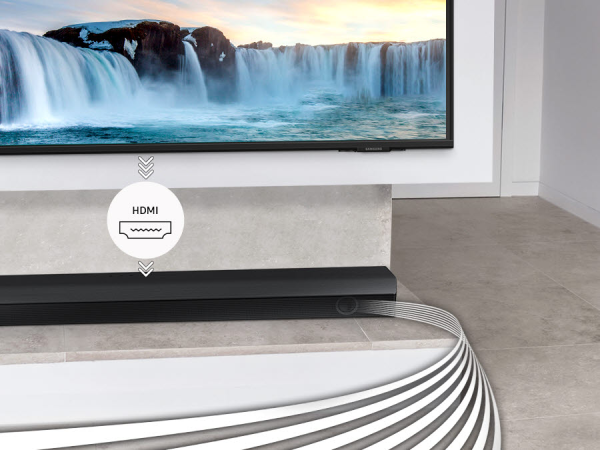 Connect,listen,enjoy
HDMI
Wanting to game on a bigger screen?With a port to connect your HDMI cable,you get a rich audio experience while connected to your favorite devices.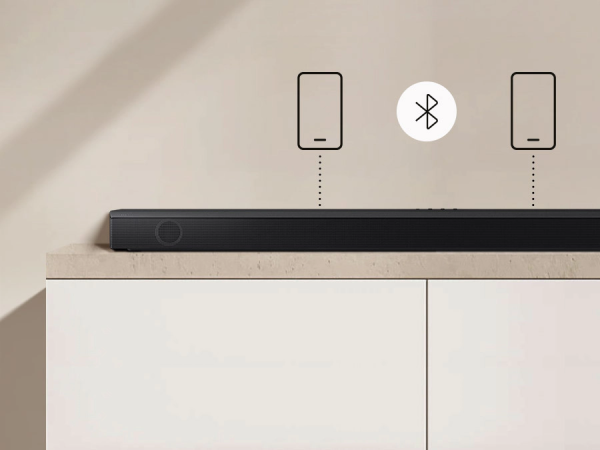 Connect,listen,enjoy
Bluetooth multi connection
Use the soundbar's Bluetooth to connect two different mobile devices at the same time,and listen to the magic happen even as you switch between the two.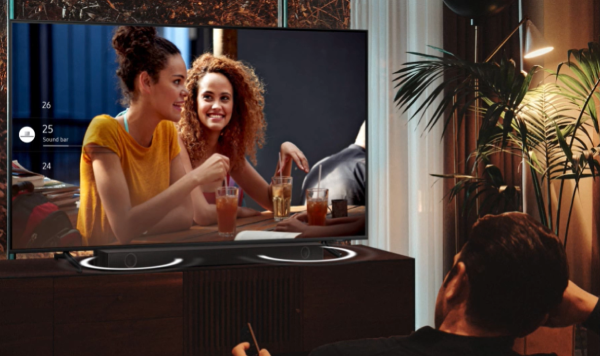 Pickup the dailogue without disturbing others
Night Mode
Night Mode makes sure that you won't wake up the kids.Switch it on to automatically cut the volume,compress the bass,and slightly emphasize the center speaker to boost the dailogue.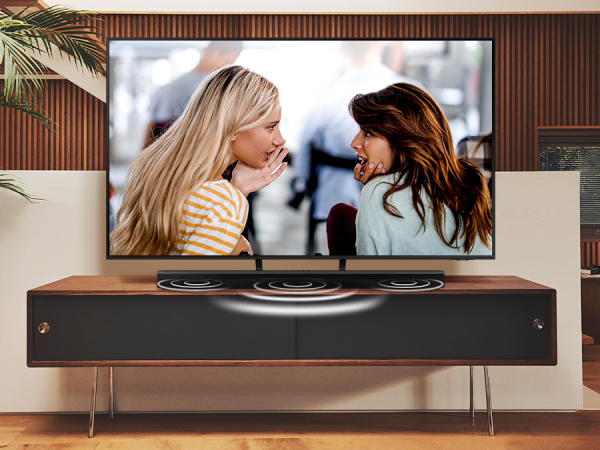 Catch every word and hear the dailogue clearly
Voice Enhance
Sometimes it's hard to pick up what the actors are saying.Set up Voice Enhance mode to optimize the EQ for clear voice tracks so dailogue stands out.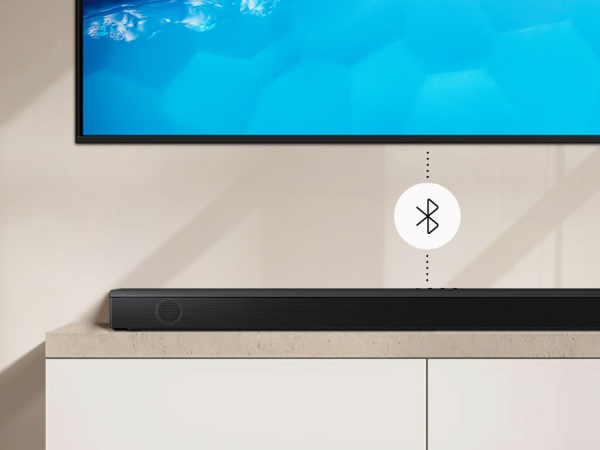 Connect,listen,enjoy
Bluetooth TV connection
Is the wire from soundbar to TV disturbing your interior?Simply use Bluetooth to connect the soundbar to your Samsung TV wirelessly.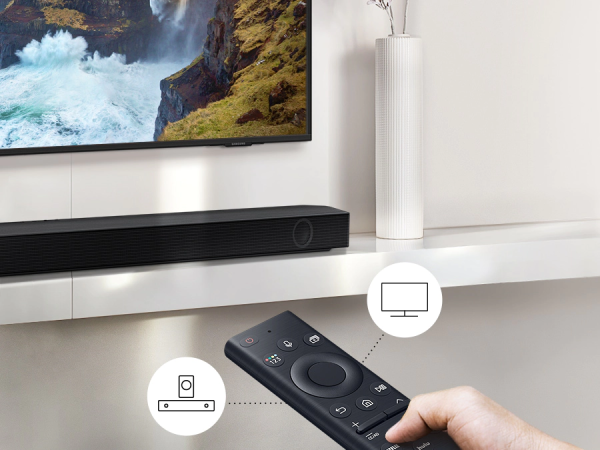 One Remote for total control
One Remote Control
You don't need several remotes.Control key soundbar functions like power,volume,and even sound effects with the Samsung TV remote-right from your TV.
Wireless Surround Sound Compatible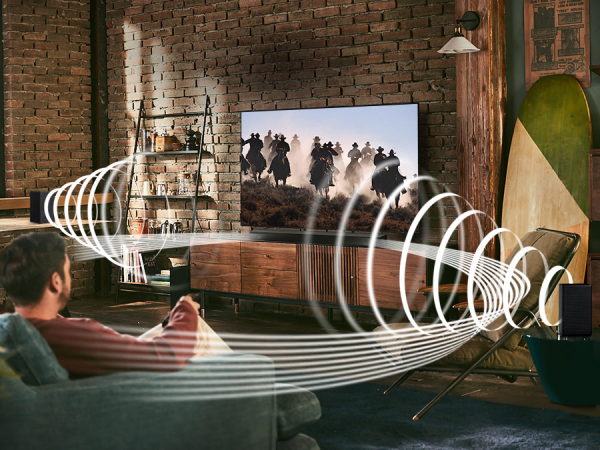 More sound without the wire
Wireless Surround Sound Compatible
The Wireless Rear Speaker Kit lets you expand your soundbar to a surround sound system easily for an enhanced cinematic experience.Together with your soundbar,you can enjoy Dolby Atoms sound at a whole new level.
Weight
Net Weight (Sub Woofer)
5.1 kg
Net Weight (Main Speaker)
3.1 kg
Dimensions
Gross Dimension (WxHxD): One Packing
1095.0 x 450.0 x 235.0 mm
Net Dimension (Sub Woofer) (WxHxD)
184.0 x 346.0 x 295.0 mm
Dimension
Net Dimension (Main Speaker) (WxHxD)
1030.0 x 59.4 x 105.0 mm
Connectivity
Bluetooth Power On
Yes
One Control
Yes
USB Music Playback
Yes
Wi-Fi
No
Bluetooth Multi Connection
Yes
Bluetooth Codec
SBC, AAC
Bluetooth
Yes
Optical In
1
HDMI CEC
Yes
HDMI ARC
Yes
HDMI Out
1
HDMI In
1
Decoding Format
AIFF
Yes
ALAC
Yes
FLAC
Yes
OGG
Yes
MP3
Yes
WAV
Yes
Video Feature
HDR
No
Decoding Format
AAC
Yes
Video Feature
4K Video Pass
No
Audio Feature
Modos de sonido
Bass Boost,Surround Sound Expansion,Game,Adaptive Lite,DTS Virtual:X,Standard
Dolby
Dolby 5.1ch
SPEAKER
Wireless Rear Speaker Included
No
Center Speaker
Yes
Subwoofer Type ( Active / Passive / Wireless, Bulit-in )
Wireless
General Feature
Number of Speaker
7
Number of Channel
3.1
Total Power
430W
Weight
Gross Weight (One Packing)
10.3 kg
POWER
Stand-by Power Consumption (Main)
0.5W
Stand-by Power Consumption (Subwoofer)
0.5W
Operating Power Consumption (Main)
25W
Operating Power Consumption (Subwoofer)
45W
Free Voltage
Yes
Energy Star
Yes
Accessory
Remote Controller
Yes
Wall Mount Bracket
Yes(/KR : holder anchor, screw included)