30" Lynx Asado Cooktop On Mobile Kitchen Cart - L30AG-M-NG

---
Lynx PROMO
Receive 10% Cash Back
See Details
Receive 10% Cash Back
Heating-Up Grilling Season with a Sizzling Cash Back Payback
Purchase $5000 in Current Lynx and Sedona Product and Receive 10% Cash Back
Valid From March 1, 2023 to December 31, 2023
Literature
PRODUCT OVERVIEW
Precise power—two Trident™ Infrared Burners combining to provide up to 46,000 BTU
Reliable speed—the Hot Surface Ignition system lights burners quickly and safely
Perfect surface—multi-layer grilling surface of aluminum sandwiched between two sheets of stainless steel
Quick clean-up—removable dual grease trays and removable grilling surface for easy cleaning
Flexible capacity—495-square-inch dual-zone cooking surface
Beautiful illumination—backlit blue control knobs
Steadfast durability—heavy-duty welded construction eliminates gaps where grease can collect
Elegant protection—includes attractive stainless steel cover
Independent Cooking Zones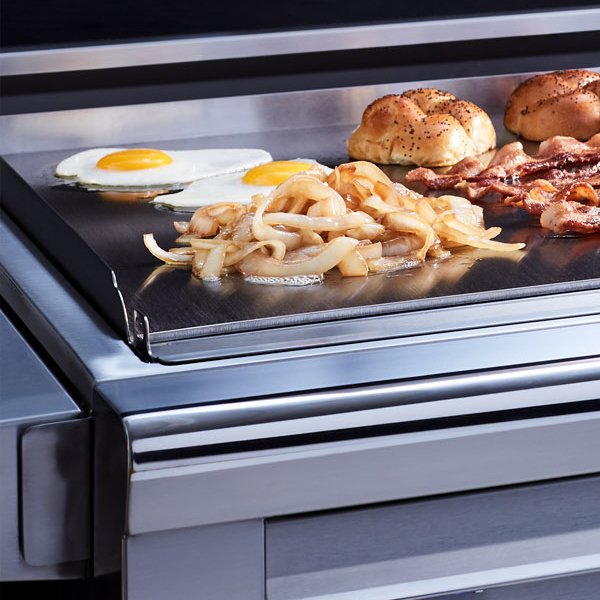 Independence is about having options
The Asado Cooktop is designed to give you options—letting you prepare dishes that are better suited to a cooktop than a grill. And, you have options within the Asado, too. There are two completely separate cooking zones, each powered by its own Trident™ Infrared Burner. So, you can tailor the heat in each zone separately, up, down, or off, as desired.
The Asado helps you keep your options open.
Seamless Welded Construction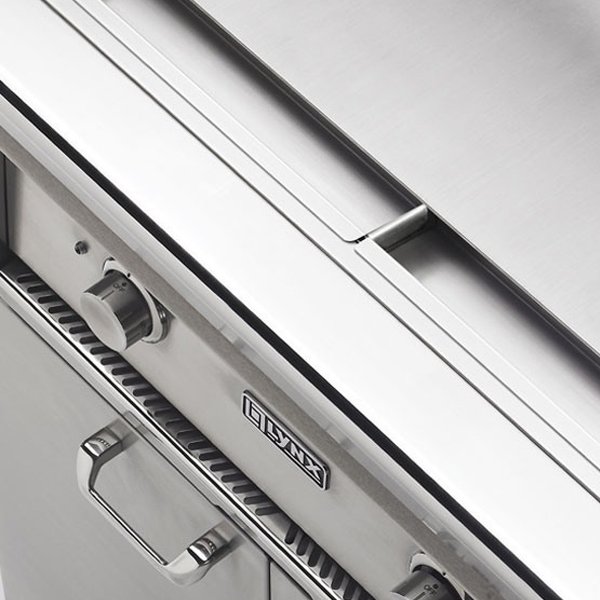 A study in skill, a lesson in craft
A Lynx welder pauses to focus on an unwelded seam… then, with one swift and steady stroke, he sweeps his torch across the seam—like painting a perfect line—and an unbroken edge emerges.
It's over in a second, and that's how it has to be done.
We do not use mechanical fasteners. We form every sheet of metal into a solitary, seamless body of shimmering steel, free of gaps and seams where moisture could collect.
Hand-tooled, precision welded, and highly polished by the skilled specialists in our shop, each and every grill is inspected before it leaves our floor. We examine details on every side, step back, and check reflections in every light, to ensure that your grill embodies Lynx—finished with invisible welds and hand-polished edges that shine like mirrors.
Integrated Illumination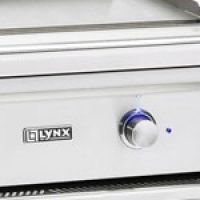 THE LYNX LIFE CONTINUES ALL DAY LONG, ALL YEAR ROUND
There's a mystical air that arises just as the sun starts to set and the evening arrives.
It's a beautiful time to grill… if you can.
Like our grills, the Asado Cooktop features elegant illumination that encircles each knob with a calm blue halo of light in the darkness.
So, just check in on your food. Then, get back to basking in the sundown grill aroma. It seems to steal an amber essence from the last of the sun.