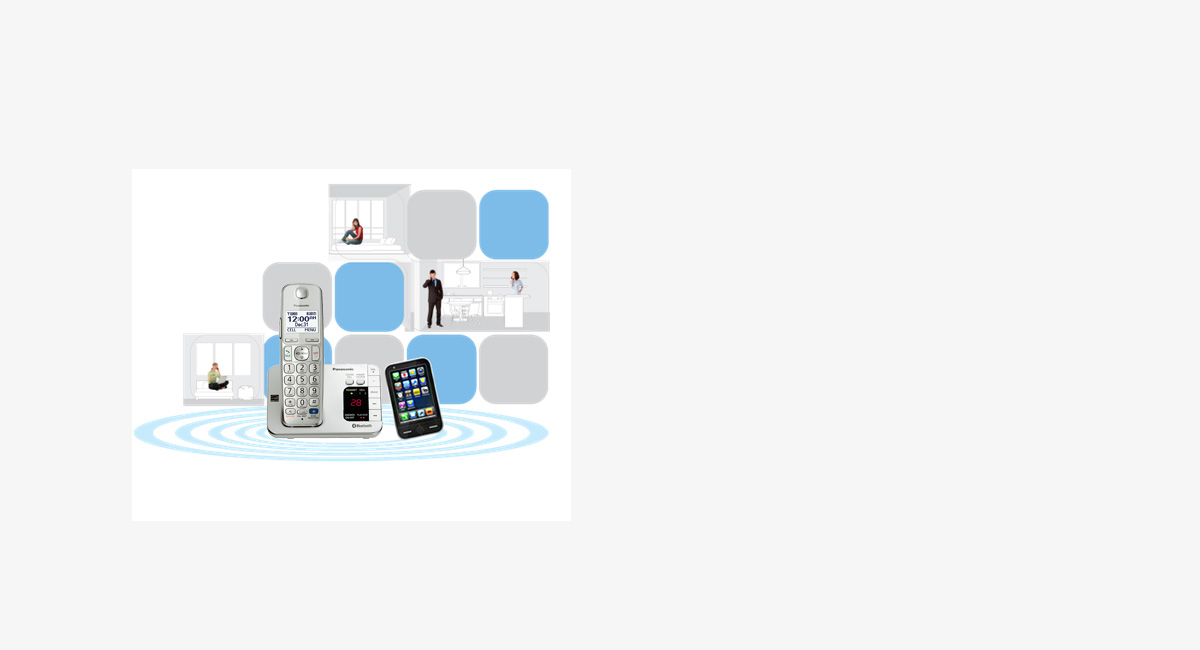 What is Link2Cell
Now you can make and receive cell phone calls through your multi-handset home phone with the Bluetooth powered Panasonic Link2Cell phone. Link2Cell harnesses the power of Bluetooth to combine the freedom of your cell phone and the convenience of a home phone. By simply placing your cell phone where reception is best, you can communicate using the cordless handset anywhere in your home.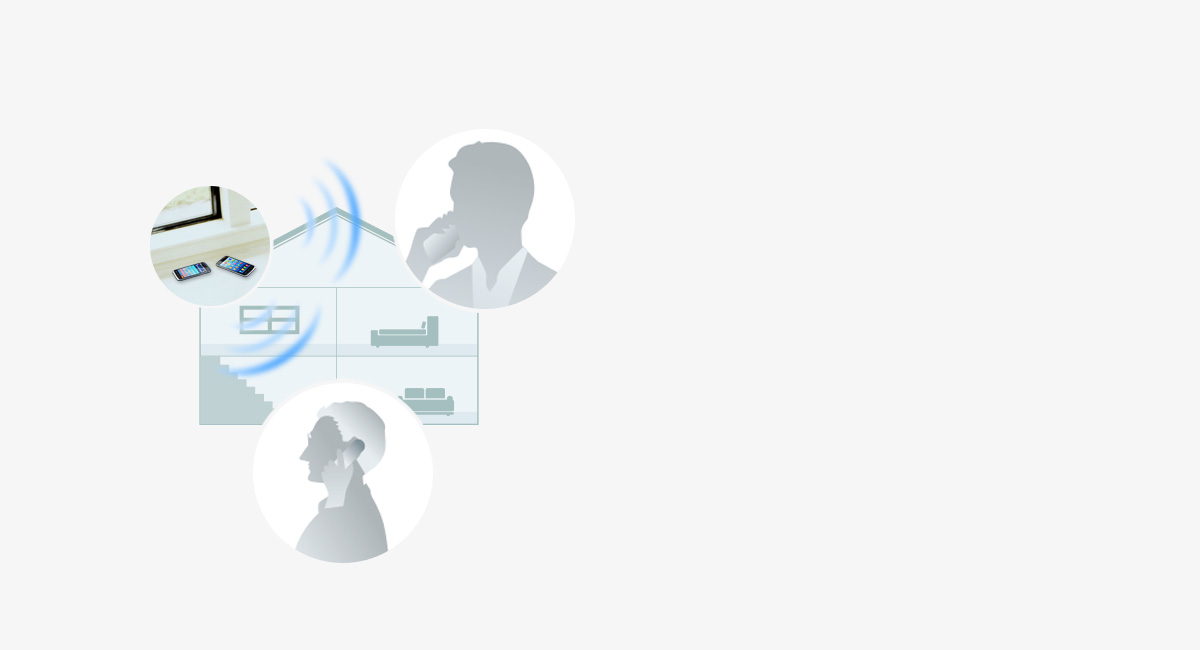 Simultaneous Conversation (2 handset)
This function also allows you to have two different cell phone conversations simultaneously using your handsets.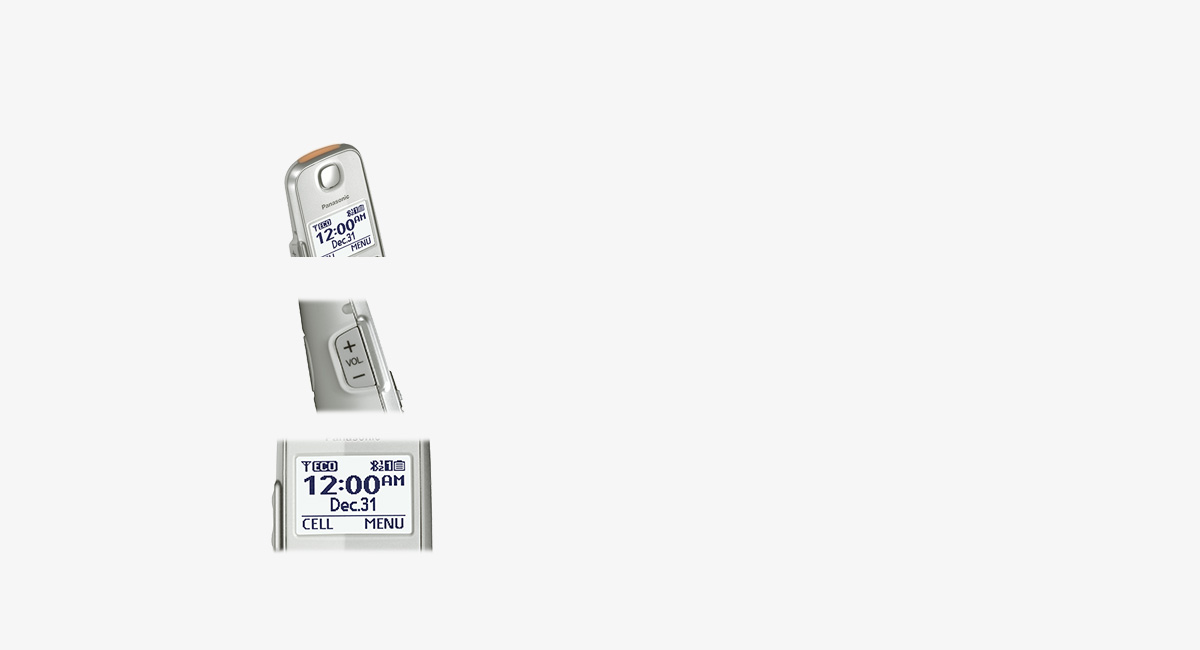 Easy-to-use
Easy-to-see Large LED indicator makes it easy to see when someone is calling
Quick Volume Control Dedicated volume keys on the slide of handset
Easy-to-read Large backlit LCD [4.4 cm (1.8")]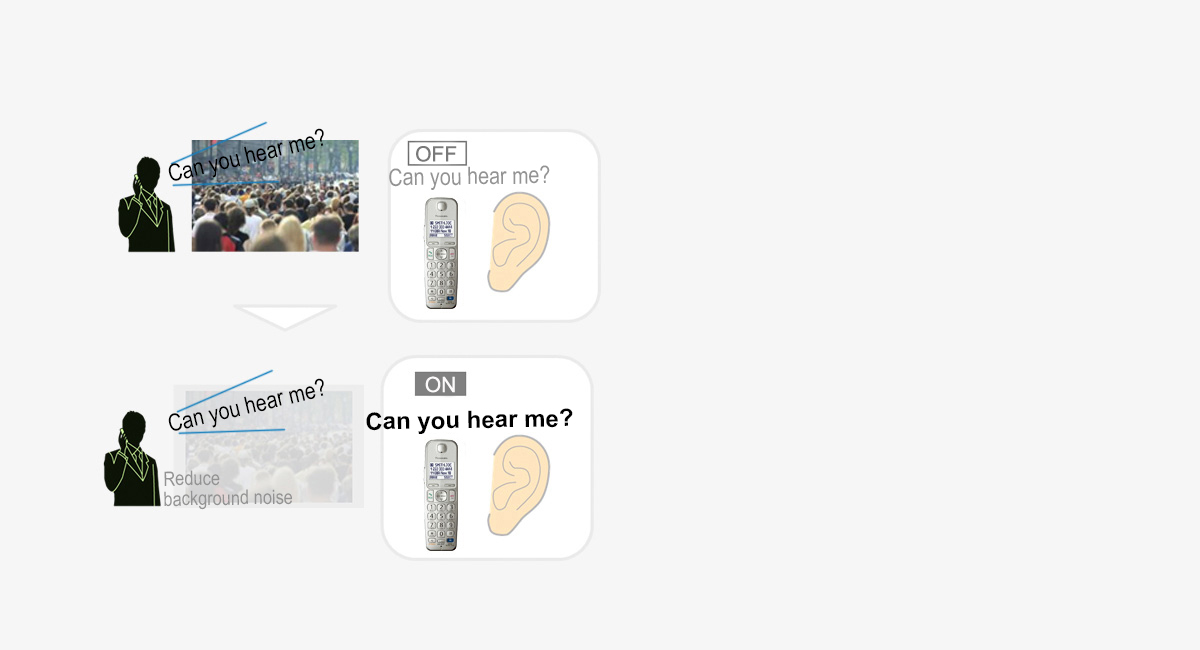 Noise Reduction
The Noise Reduction feature of the handset suppresses background noise around the caller while simultaneously enhancing their voice, making it easier to hear.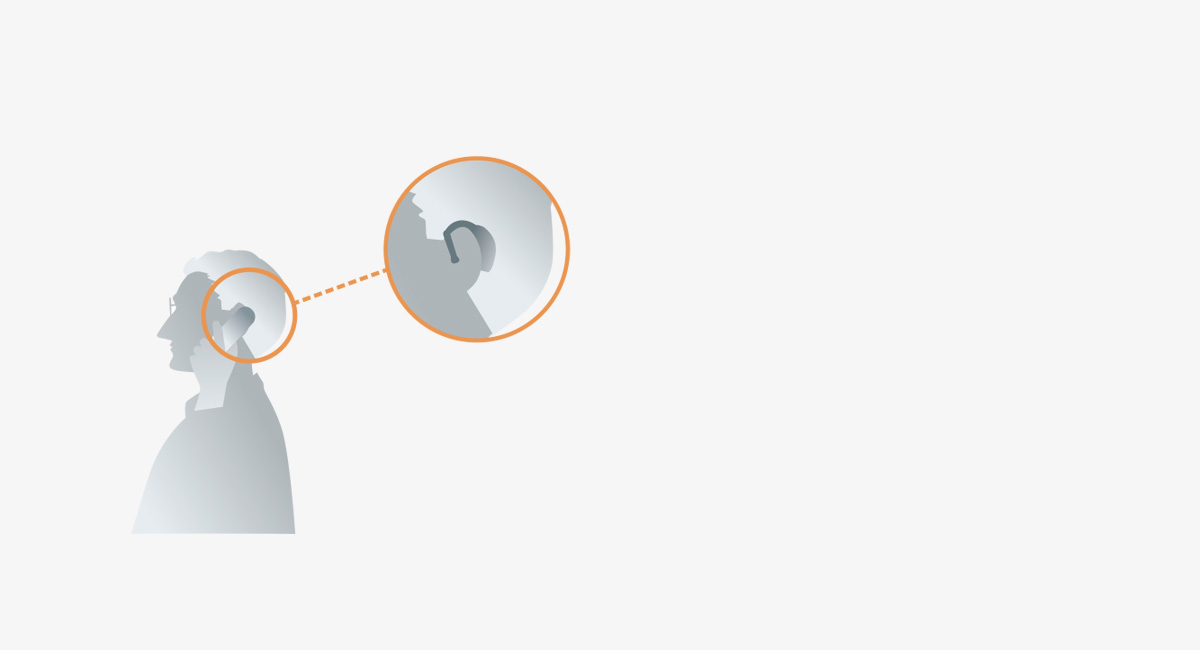 Hearing Aid Compatible
This handset meets the TIA-1083 standard for hearing aid compatibility. It is designed to work well with a hearing aid, reducing noise.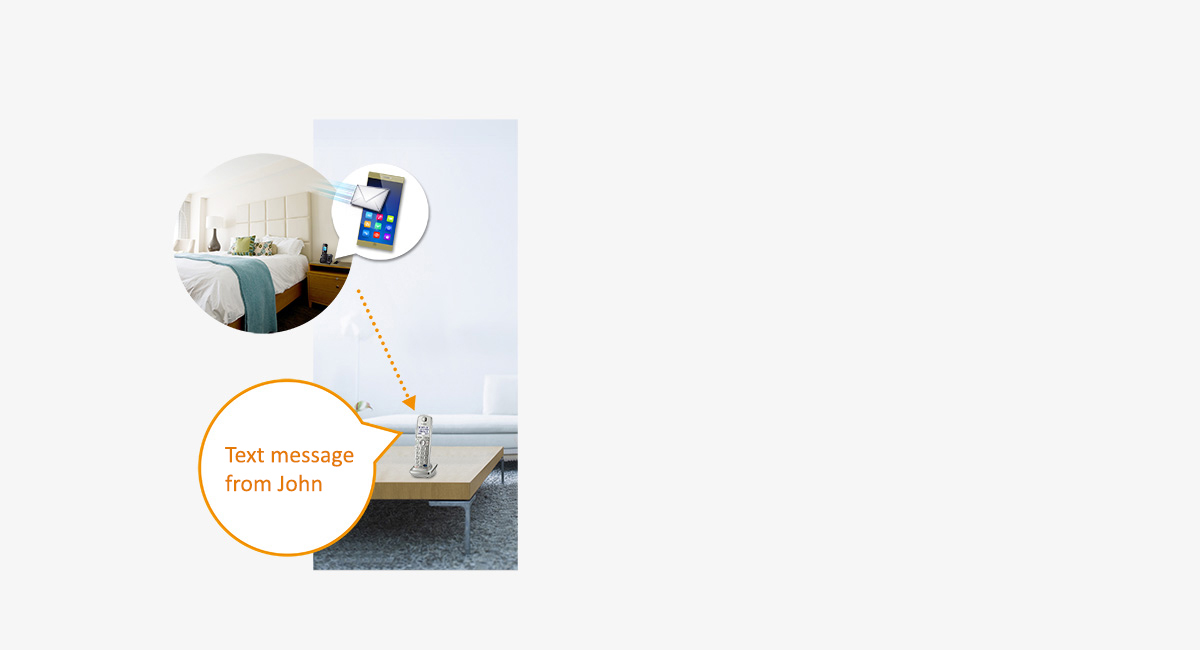 Talking Text Sender Alert
When you receive a text message on your cell phone, the sender"s name or phone number will be announced by your handset using the text-to-speech function.
Intercom to all handsets
When you want to search for a family member and you don't know where they are in the house, you can make an intercom call to all handsets. This lets you find whomever you are looking for without searching the whole house.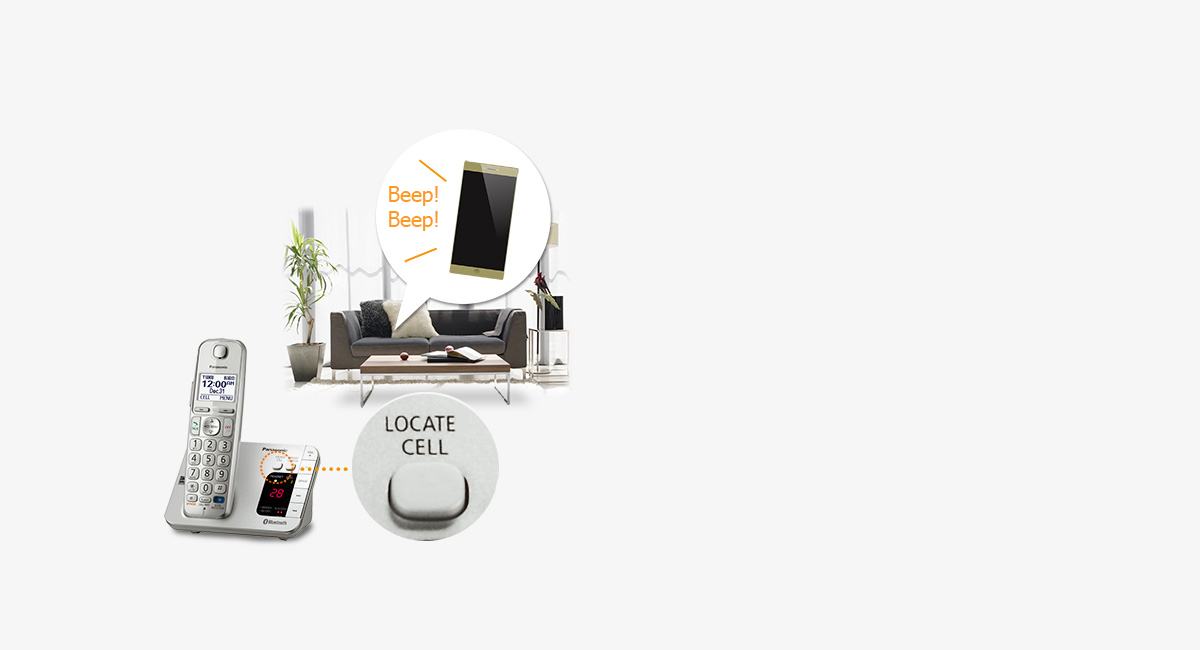 Locate Cell
If you have misplaced your smartphone, press the " Locate Cell" button on the base unit and a "beep, beep" sound will eminate from your smartphone. Smartphone should not be in vibration or silent mode.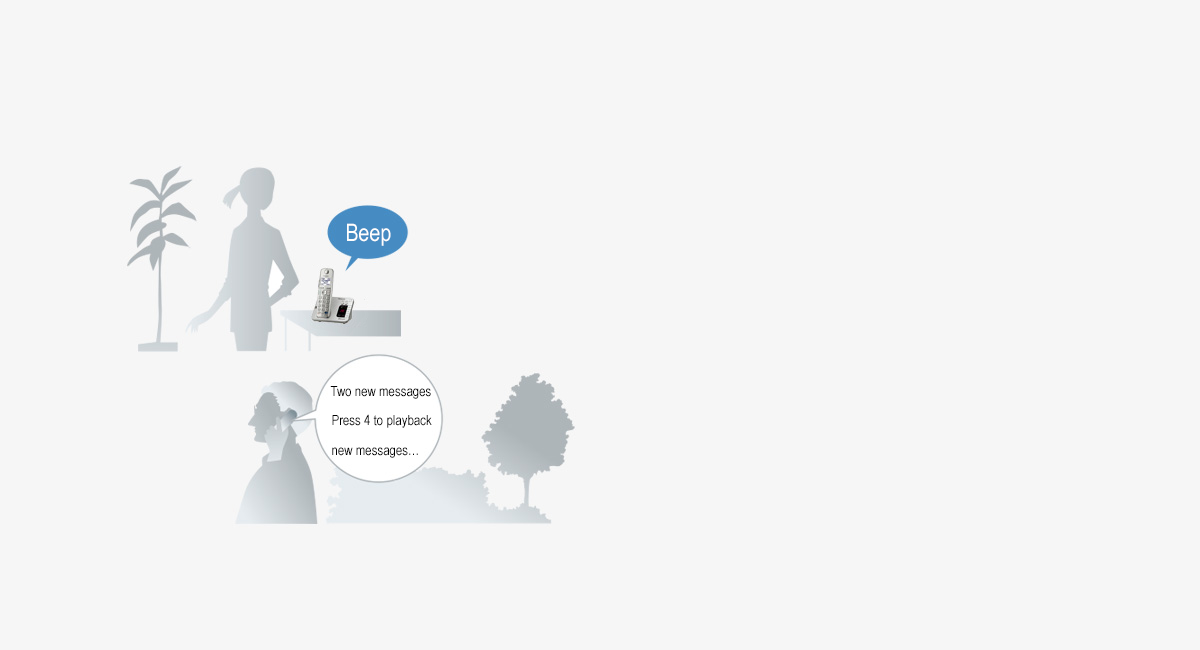 Advanced Answering Machine
You can be alerted to recorded messages whether you"re at home or on the road. When a caller records a message, the base unit will beep alerting those in the house. Not at home This feature allows the unit to make a call to the pre-stored cell or office phone number and inform you that a new message has been received.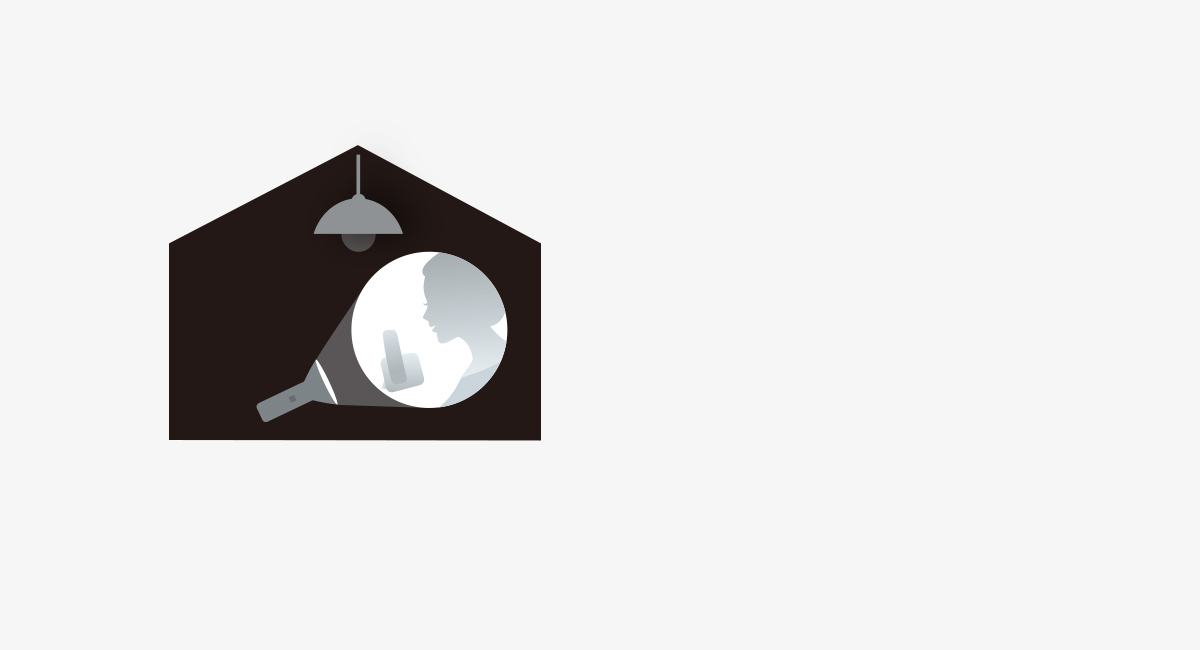 Power Back-Up Operation
A powerful battery back-up system helps you stay connected temporarily even when the power goes out. Keep a charged handset in the base unit and you can still make and receive calls with the other cordless handsets.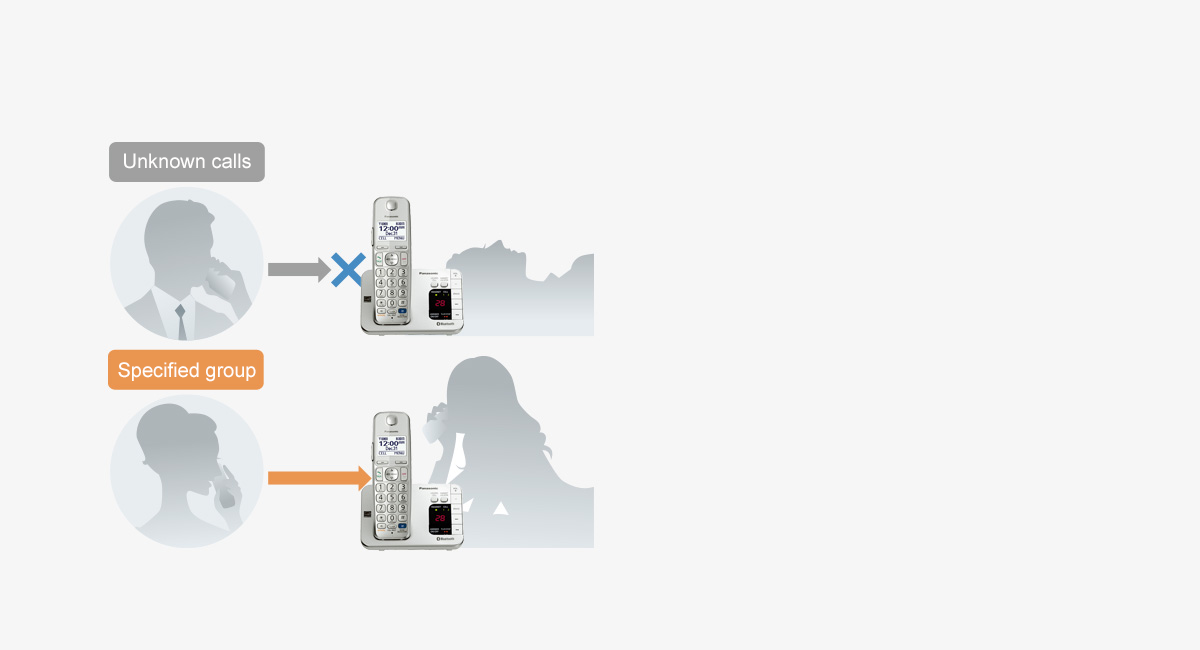 Night Mode
Night mode allows you to select a span of time during which the handset will not ring for outside calls. This feature is useful for when you do not want to be disturbed, for example, while sleeping. Night mode can be set for each handset. You can allow calls from a specified group of contacts that is stored in the phonebook. Requires subscription to name-and-number Call Display service offered by certain local telephone companies for a fee. Requires number registration in the call block list.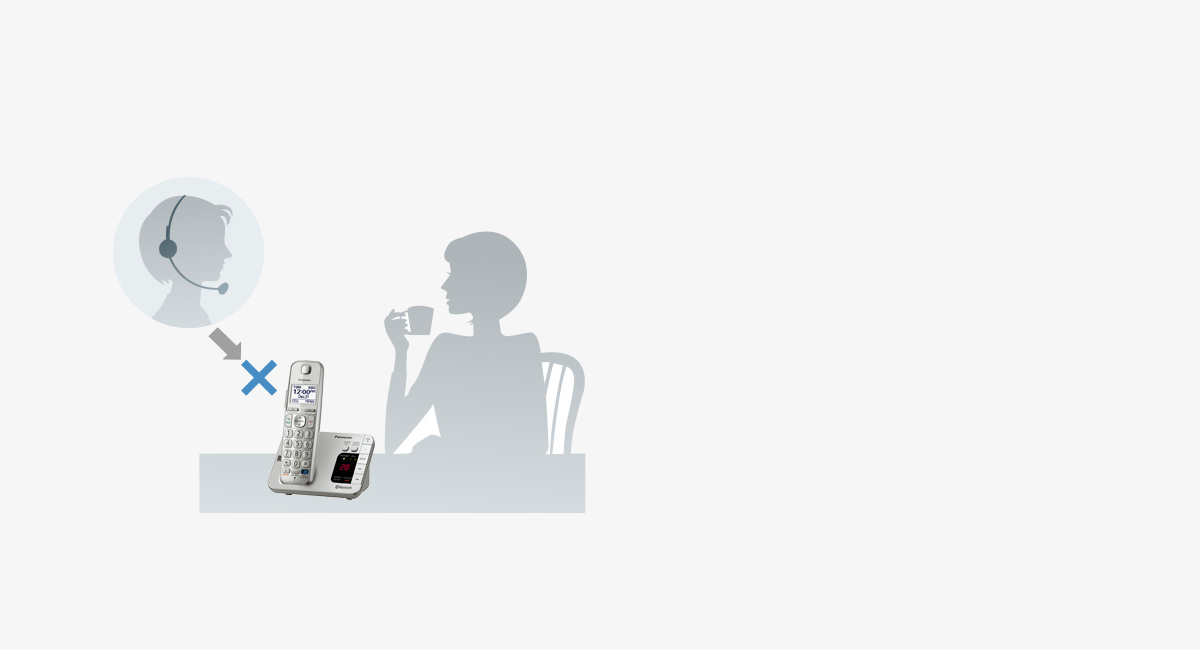 Call Block
You can block annoying calls from unwanted callers. Calls from numbers stored in your call block list or any calls that do not display a number can be blocked. When the unit receives a call from a number on the call block list or without a number, the KX-TGE emits no sound to the caller, then disconnects the call. Requires subscription to name-and-number Call Display service offered by certain local telephone company for a fee. Requires number registration in the call block list.
General
Colour
S[Silver]
Handset (Quantity)
3.0
Frequency
1.9 GHz
Frequency Range
1.92 - 1.93 GHz
Number of Channels
60 Channels
System
DECT6.0
Number of Phone Lines
1.0
Multiple Handsets Capability
Up to 6 Handsets
Multiple Base Units Capability
-
LCD Language
English, French
Wi-Fi Connection
-
AndroidTM OS Version
-
Power Saving
Intelligent ECO Mode
Y
Smartphone Connect
Smartphone Connect
-
Multiple Smartphones Capability
-
Supported Devices
-
Wireless Network Standard
-
Simplified Configuration
-
Easy Wi-Fi Setup Button
-
Wi-Fi Repeater Mode
-
Phonebook Copy from Smartphone
-
Ringtone Copy from Smartphone
-
Wallpaper Image Copy from Smartphone
-
Conference Call with Outside Landline and Smartphone
-
Transfer Landline Call (between Smartphone and Handsets)
-
Playing Answering System Messages
-
Link-to-Cell
Y The mobile phone must have Bluetooth capability and must be compatible with the cordless phone system. - Link-to-Cell
Y The mobile phone must have Bluetooth capability and must be compatible with the cordless phone system.
Mobile Registration Number
2.0 - Mobile Registration Number
2.0
Simultaneous Communication
Cell1 and Cell2,Cell1 and Landline,Cell2 and Landline - Simultaneous Communication
Cell1 and Cell2,Cell1 and Landline,Cell2 and Landline
Ring as Cell Mode
Y The mobile phone must support ringtone melody transfer via bluetooth when receiving call to cellular phone. - Ring as Cell Mode
Y The mobile phone must support ringtone melody transfer via bluetooth when receiving call to cellular phone.
Text Message Alert
Y - Text Message Alert
Y
Talking Text Sender Alert
Y Requires registration in phonebook function. - Talking Text Sender Alert
Y Requires registration in phonebook function.
Device Battery Charging
- - Device Battery Charging
-
Smartphone Docking Station
Smartphone Stand
-
Stereo Speaker
-
Compatible Devices of Battery Charging
-
Playing Music from a Bluetooth Device
-
Music Player Remote Control by DECT Handset
-
Convenience
Key Detector Compatible
Y
Multiple Key Detector Capability
Up to 4 Key Detector
Range Extender Available
Y
Range Boost
-
Noise Reduction
Y
Customized Sound System (Equalizer)
Treble / Bass
Compatible with Hearing Aid T-Coil (TIA-1083 Compliant)
Y
Power Back-Up Operation
Y The base unit gets temporary power supply from a handset in the case of a power outage.
Baby Monitor
-
Smart Function Key
Y (NR Key)
Any Key Answer
Y
Night Mode
Y
Bypassing Night Mode (Specified Phonebook Group)
Y Requires subscription to Caller ID service offered by your provider / telephone company.
Voice Mail
Y Requires subscription to a Voice Mail service offered by your provider / telephone company.
Voice Mail Alert (Light-Up Indicator on Handset)
Y (NR Indicator) Requires subscription to a Voice Mail service offered by your provider / telephone company.
Conference Call with Outside Line
Y3-Way Optional handset may be required depending on the model. 3-Way: Handset - Handset - Landline
Barge In (Call Share)
Y
Intercom (Handset to Base Unit)
-
Intercom (Handset to Handset)
Y
Intercom All
Y (Handset) Optional handset may be required depending on the model.
Clock
Y
Calendar/Scheduler
-
Alarm (Wake-up / Memo alarm)
Y/Y
Advanced Alarm (A day of the week / Snooze)
Y/Y
Bluetooth Headset Capability (HSP Support)
Y
Bluetooth Audio Headphone/Speaker Capability (A2DP Support)
-
Google PlayTM Support
-
Caller ID/ Phonebook
Caller ID
Y Requires subscription to a Caller ID service offered by your provider / telephone company.
Caller ID Memory
50 items Requires subscription to a Caller ID service offered by your provider / telephone company.
Call Waiting Caller ID
Y Requires subscription to a Caller ID and Call Waiting service offered by your provider / telephone company.
Category Ringer / Ringer ID
Y Requires subscription to a Caller ID service offered by your provider / telephone company. Requires registration in Phonebook function.
Talking Caller ID (Handset)
Y Requires subscription to a Caller ID service offered by your provider / telephone company. Name pronunciation may vary.
Talking Caller ID (Base Unit)
Y Requires subscription to a Caller ID service offered by your provider / telephone company. Name pronunciation may vary.
Talking Caller ID Language
English, French Requires subscription to a Caller ID service offered by your provider / telephone company. Name pronunciation may vary.
Call Block
Y (250 numbers) Requires subscription to a Caller ID service offered by your provider / telephone company. Requires number registration in the call block list.
Handset Phonebook Memory (Name/Number)
-
Base Unit Phonebook Memory (Name/Number)
3000 items(16 char / 24 digits)
Phonebook Copy from Cellular Phone via Bluetooth
Y
Speed Dial (Handset)
Y
Speed Dial (Base Unit)
-
Chain Dial
Y (Handset)
Handset
LCD
1.88 inchFull Dot Monochrome103 x 65 pixels
LCD Backlight Colour
White
Touchscreen
-
Front Camera
-
Rear Camera
-
LED Flash
-
GPS
-
SD Memory Card Slot
-
USB Jack
-
USB Version
-
Lighted Handset Keypad
Amber
Speakerphone (Volume Steps)
Y (7-step)
Ringer Pattern (Tone + Melody)
PSTN:15 (5 + 10)CELL:15 (5 + 10) Inband Tone
Ringer Volume Steps
6 + OFF
Receiver Volume Steps
5.0
Redial Memory
5 (Name & Number) Requires registration in the phonebook to display the name.
Ringer Indicator (Colour)
Y (Amber)
Charge Indication (Colour)
-
Hold
Y
Music on Hold
-
Mute
Y
Flash
Y
Headset Jack
Y
Reversible Handset Charging
-
Rubber Grip
-
Wall Mountable (Charger)
Y
Base Unit
Dial Keypad
-
Corded Handset (Power Outage Operation)
-
Display
7-segment LED2 digits
Speakerphone (Volume Steps)
-
Ringer Pattern (Tone + Melody)
PSTN:1 (1 + 0)CELL:1 (1 + 0) Inband Tone
Ringer Volume Steps
6 + OFF
Redial Memory
-
Locates Cell
Y
Hold
-
Music on Hold
-
Mute
-
Flash
-
Handset Locator
Y
Headset Jack
-
Wall Mountable
Y
Answering System
Answering System
Y
Total Recording Time
About 16 min
2-Line Answering System Operation
-
Optional greeting message for each line
-
Programmable greeting message by time setting
-
Fast-Forwarding and Rewinding Message
-
Audible Message Alert
Y (Base Unit)
Message Alert (Light-Up Indicator on Handset)
-
New Message Notification by a Call
Y
Announcement Language of New Message Notification
English, French
Visual Message List (Handset LCD)
-
Recording Conversation
-
Speaker Volume Steps(Base Unit Speaker)
8.0
Call Screening (Handset)
Y
Call screening (Base Unit)
-
Language of Pre-recorded Greeting Message
English, French
Remote Operation from Handset
Y
Remote Operation from Outside (DTMF)
Y
Toll Saver (New Messages Recorded / No New Message)
2/5
Accessories
Key Detector Included (Quantity)
-
Range Extender Included
-
Belt Clip Included
Y
Optional Handset
Optional Handset
Y (KX-TGEA20)
Others
Rechargeable Battery
Ni-MH (AAA x 2)
Talk Time
Up to 10 hours
Standby Time
Up to 192 hours (8 days)
Charge Time
About 7 hours
Power Consumption
Base Unit Standby Power Consumption
1.2 W
Charger Standby Power Consumption
0.1 W
Dimensions/ Weight
Base Unit Dimensions (W x D x H)
Approx. 136 mm x 88 mm x 80 mm
Handset Dimensions (W x D x H)
Approx. 54 mm x 31 mm x 171 mm
Charger Dimensions (W x D x H)
Approx. 72 mm x 72 mm x 38 mm
Key Detector Dimensions (W x D x H)
-
Repeater Dimensions (W x D x H)
-
Base Unit Weight
Approx. 160 g
Handset Weight with Battery
Approx. 140 g
Charger Weight
Approx. 90 g
Key Detector Weight
-
Range Extender Weight
-