Panasonic 2-Line Cordless Phone With Link-to-Cell - KXTG9541B

---
Literature
2-Line Cordless Phone with Link-to-Cell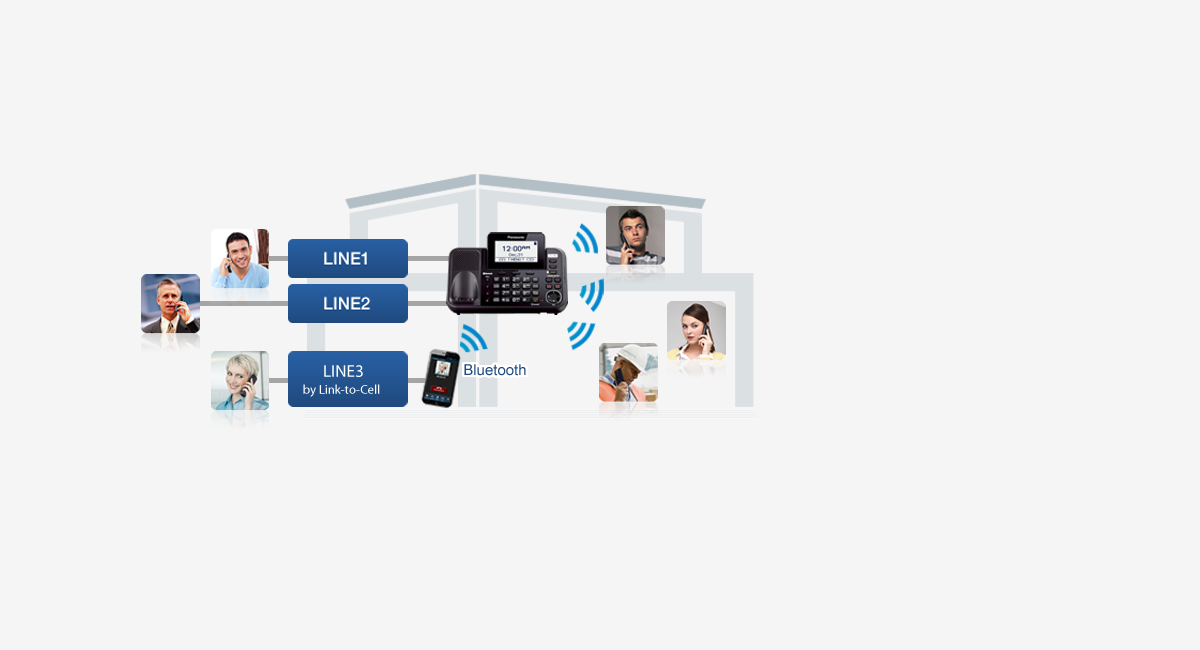 2-LINE + Link-to-Cell
With 2 landlines and Link-to-Cell via Bluetooth, 3-Line simultaneous communication is possible. You can add up to 6 handsets on standby at the same time as well as register up to 4 cell phones. For a list of compatible cellular models, please click here.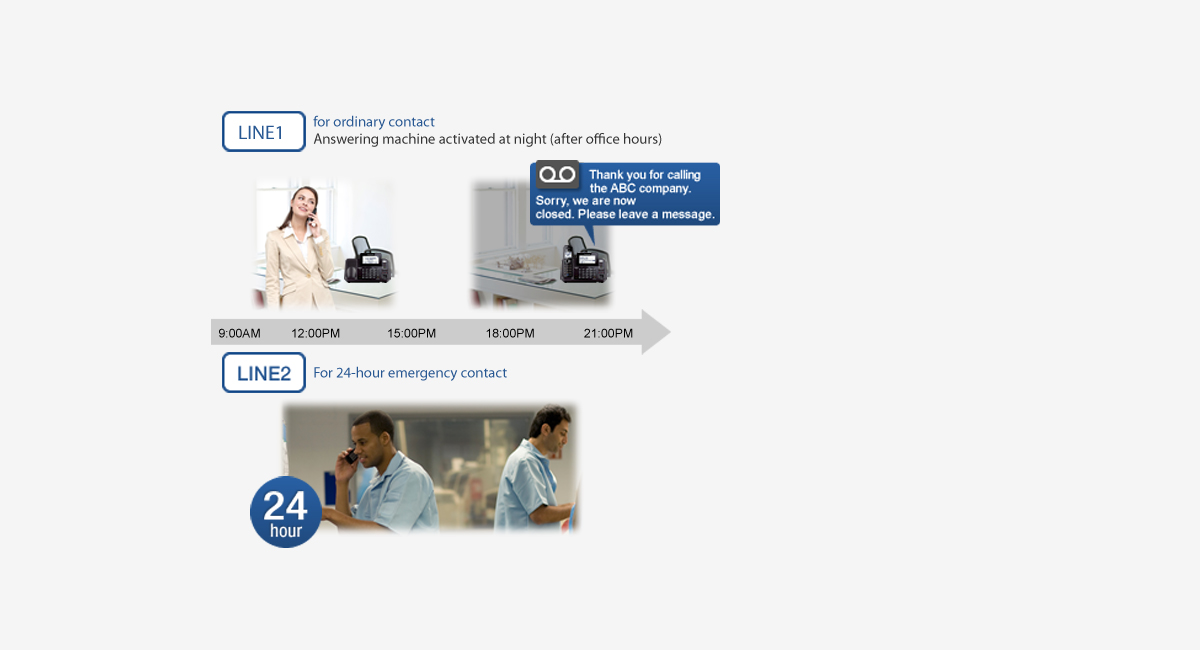 2-Line Answering System
The 2-LINE answering system can be used separately for ordinary contacts, emergency contacts, etc. This is very useful in a variety of situations, such as when you want separate lines for personal and business use. • The total recording capacity for both lines added together is about 60 minutes. • You can set the start/end time of each greeting message.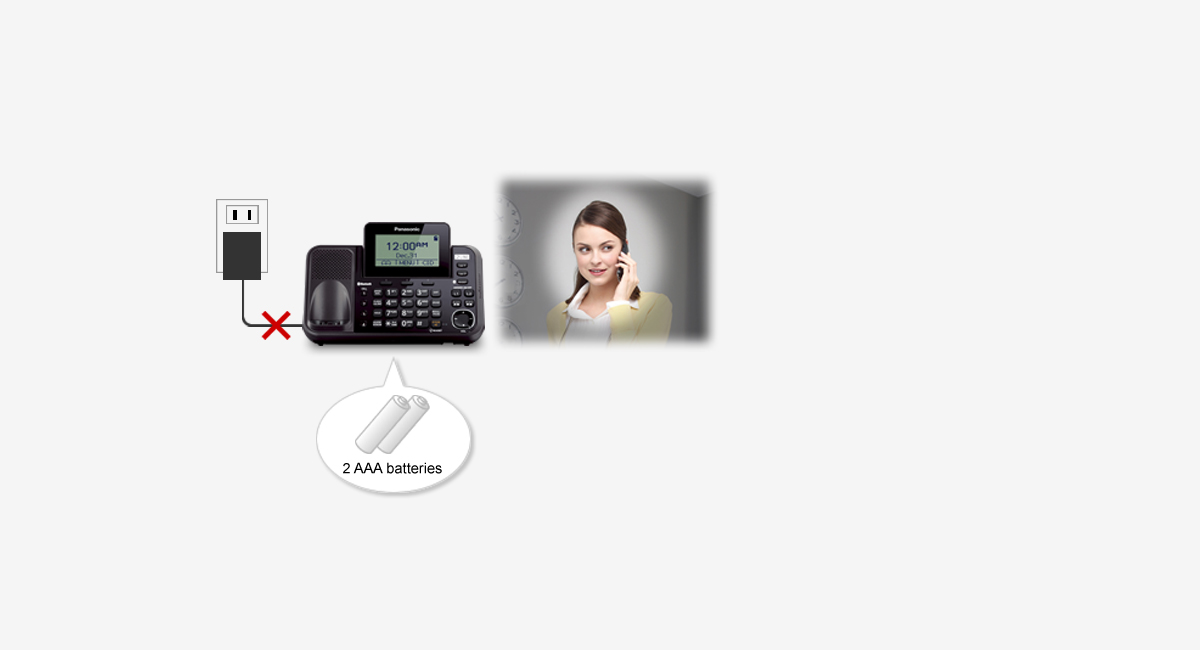 You can use the phone during a power failure
When a power failure occurs, you can use the phone temporarily by inserting 2 standard AAA batteries in the base unit so you don't miss any calls. * The batteries for the base unit are sold separately. * Although both alkaline batteries and rechargeable batteries can be used for the base unit, only Ni-MH rechargeable batteries (supplied) can be used for the handset.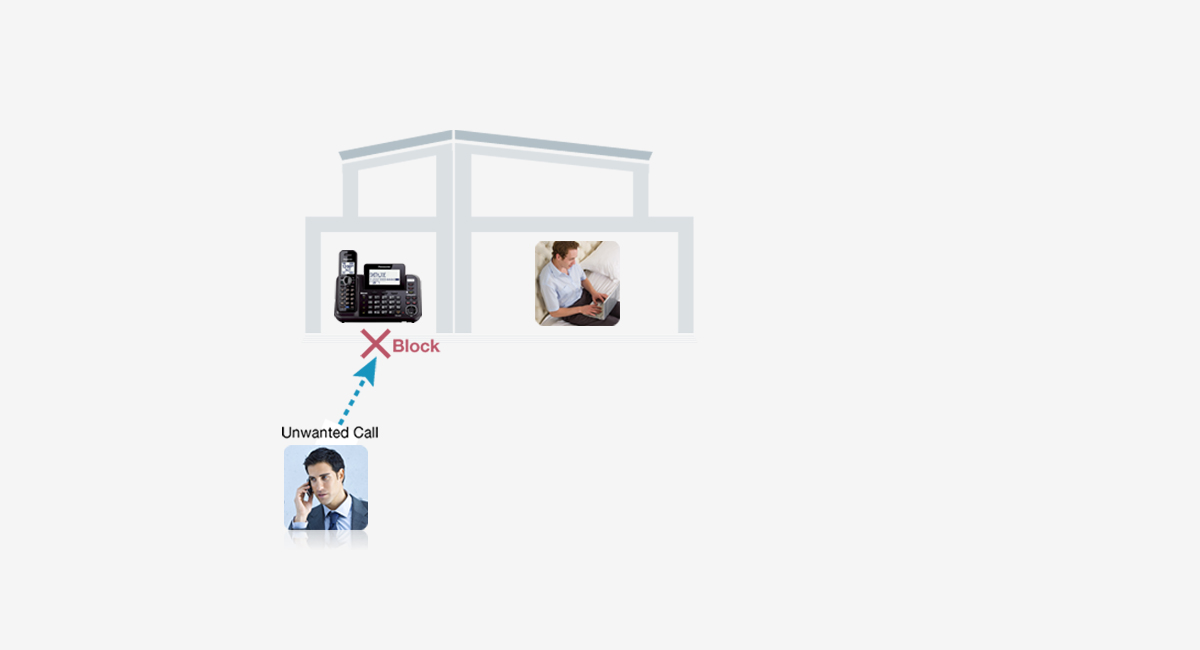 Call Block
You can block annoying calls from unwanted callers. Calls from numbers stored in your call block list or any calls that do not display a number can be blocked. When the unit receives a call from a number on the call block list or without a number, the KX-TG954x emits no sound to the caller, then disconnects the call. * You can program this setting using either the base unit or one of the handsets. * Requires subscription to name-and-number Call Display service offered by certain local telephone company for a fee. * Requires number registration in the call block list.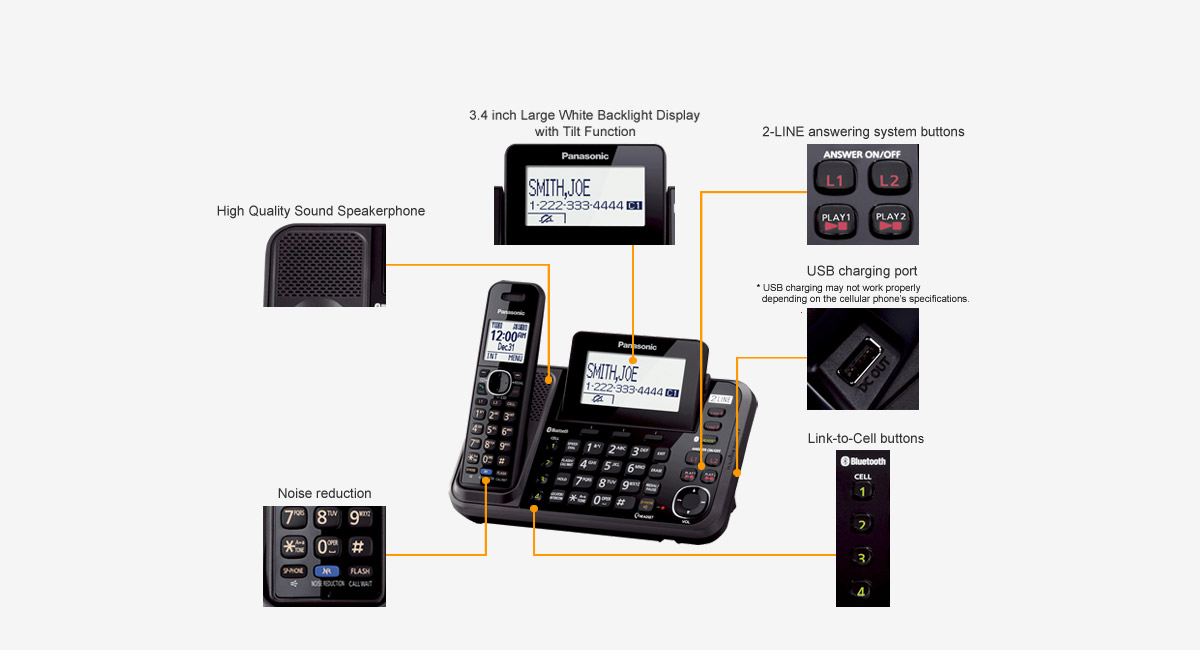 General
Colour
Black
Handset (Quantity)
1
Frequency
1.9 GHz
Frequency Range
1.92 GHz - 1.93 GHz
Number of Channels
60 Channels
System
DECT6.0
Number of Phone Lines
2.0
Multiple Handsets Capability
Up to 6 Handsets
Multiple Base Units Capability
-
LCD Language
English, French
Intelligent Eco Mode
Y
Link-to-Cell
Intelligent Eco Mode - Link-to-Cell
Y
Mobile Registration Number
Intelligent Eco Mode - Mobile Registration Number
4.0
Ring as Cell Mode
Intelligent Eco Mode - Ring as Cell Mode
Y- Your cellular phone must support Bluetooth in-band ringtone when receiving a call to cellular phone.
Text Message Alert
Intelligent Eco Mode - Text Message Alert
Y
USB Charging
Intelligent Eco Mode - USB Charging
Y
Convenience
Intelligent Eco Mode - Key Detector Compatible
Y
Intelligent Eco Mode - Multiple Key Detector Capability
(Up to 4 Key Detectors)
Intelligent Eco Mode - Range Extender Available
Y
Intelligent Eco Mode - Range Boost
Y
Intelligent Eco Mode - Noise Reduction
Y
Intelligent Eco Mode - Customized Sound System (Equalizer)
Treble / Bass
Intelligent Eco Mode - Power Back-Up Operation
Y(The base unit gets temporary power supply from 2 AAA batteries in the case of a power outage.)
Intelligent Eco Mode - Any Key Answer
Y
Intelligent Eco Mode - Night Mode
Y
Intelligent Eco Mode - Conference Call with Outside Line
Y3 Way(Optional handset may be required depending on the model.)
Intelligent Eco Mode - Barge In (Call Share)
Y(Optional handset may be required depending on the model.)
Intelligent Eco Mode - Intercom (Handset to Base Unit)
Y
Intelligent Eco Mode - Intercom (Handset to Handset)
Y(Optional handset may be required depending on the model.)
Intelligent Eco Mode - Clock
Y
Intelligent Eco Mode - Calendar/Scheduler
-
Intelligent Eco Mode - Advanced Alarm (A day of the week / Snooze)
-
Intelligent Eco Mode - Alarm (Wake-up / Memo alarm)
Y / -
Intelligent Eco Mode - Bluetooth® Headset Capability (HSP Support)
Y
Caller ID/ Phonebook
Intelligent Eco Mode - Caller ID
Y(Requires subscription to name-and-Number Caller ID, Call Waiting and/or Voice Mail service.)
Intelligent Eco Mode - Caller ID Memory
50 items(Requires subscription to name-and-Number Caller ID, Call Waiting and/or Voice Mail service.)
Intelligent Eco Mode - Call Waiting Caller ID
Y(Requires subscription to name-and-Number Caller ID, Call Waiting and/or Voice Mail service.)
Intelligent Eco Mode - Category Ringer / Ringer ID
Y- Requires subscription to name-and-Number Caller ID, Call Waiting and/or Voice Mail service.- Requires registration in Phonebook function.
Intelligent Eco Mode - Talking Caller ID (Handset)
Y- Requires subscription to name-and-Number Caller ID, Call Waiting and/or Voice Mail service.- Requires registration in Phonebook function.- Name pronunciation may vary.
Intelligent Eco Mode - Talking Caller ID (Base Unit)
Y- Requires subscription to name-and-Number Caller ID, Call Waiting and/or Voice Mail service.- Requires registration in Phonebook function.- Name pronunciation may vary.
Intelligent Eco Mode - Talking Caller ID Language
English, French(Requires subscription to Caller ID service offered by your telephone company.)
Intelligent Eco Mode - Call Block
Y (250 numbers)- Requires subscription to name-and-Number Caller ID, Call Waiting and/or Voice Mail service.- Requires number registration in the call block list.
Intelligent Eco Mode - Voice Mail
Y(Requires subscription to name-and-Number Caller ID, Call Waiting and/or Voice Mail service.)
Intelligent Eco Mode - Voice Mail Alert (Light-Up Indicator on Handset)
-
Intelligent Eco Mode - Phonebook Memory (Name/Number)
3000 items(16 characters / 24 digits)
Intelligent Eco Mode - Phonebook Copy from Cellular Phone via Bluetooth
Y
Intelligent Eco Mode - Speed Dial (Handset)
Y
Intelligent Eco Mode - Speed Dial (Base Unit)
Y
Intelligent Eco Mode - Chain Dial
Y (Base Unit / Handset)
Handset
Intelligent Eco Mode - LCD
1.8 inch Full dotMonochrome103 x 65 pixels
Intelligent Eco Mode - LCD Backlight Color
White
Intelligent Eco Mode - Lighted Handset Keypad
Amber
Intelligent Eco Mode - Speakerphone (Volume Steps)
Y (6-steps)
Intelligent Eco Mode - Ringer Pattern (Tone+Melody)
PSTN:15 (5 + 10)CELL:15 (5 + 10) + Inband Tone
Intelligent Eco Mode - Ringer Volume Steps
6 + OFF
Intelligent Eco Mode - Receiver Volume Steps
4
Intelligent Eco Mode - Redial Memory
5 (Name & Number)(It requires registration in the phonebook to display the name.)
Intelligent Eco Mode - Ringer/ Charge Indicator (Color)
-
Intelligent Eco Mode - Hold
Y
Intelligent Eco Mode - Music on Hold
Y
Intelligent Eco Mode - Mute
Y
Intelligent Eco Mode - Flash
Y
Intelligent Eco Mode - Headset Jack
Y
Intelligent Eco Mode - Reversible Handset Charging
-
Intelligent Eco Mode - Rubber Grip
-
Intelligent Eco Mode - Wall Mountable (Charger)
Y
Base Unit
Intelligent Eco Mode - Dial Keypad
Y
Intelligent Eco Mode - Corded Handset (Power Outage Operation)
-
Intelligent Eco Mode - Display
3.4 inchMonochrome103 x 65 pixels3line+Softkey+Pict
Intelligent Eco Mode - Speakerphone (Volume Steps)
Y (8-steps)
Intelligent Eco Mode - Ringer Pattern (Tone+Melody)
PSTN: 2 (2 + 0)CELL: 1 (1 + 0) + Inband Tone
Intelligent Eco Mode - Ringer Volume Steps
6 + OFF
Intelligent Eco Mode - Redial Memory
10 (Name & Number)(It requires registration in the phonebook to display the name.)
Intelligent Eco Mode - Hold
Y
Intelligent Eco Mode - Music on Hold
Y
Intelligent Eco Mode - Mute
Y
Intelligent Eco Mode - Flash
Y
Intelligent Eco Mode - Handset Locator
Y
Intelligent Eco Mode - Headset Jack
Y
Intelligent Eco Mode - Wall Mountable
Y
Answering System
Intelligent Eco Mode - Answering System
Y
Intelligent Eco Mode - Total Recording Time
About 60 min
Intelligent Eco Mode - 2-Line Answering System Operation
Y
Intelligent Eco Mode - Optional greeting message for each line
Y
Intelligent Eco Mode - Programmable greeting message by time setting
Y
Intelligent Eco Mode - Audible Message Alert
Y (Base Unit)
Intelligent Eco Mode - Message Alert (Light-Up Indicator on Handset)
-
Intelligent Eco Mode - New Message Notification by a Call
Y
Intelligent Eco Mode - Announcement Language of New Message Notification
English, French
Intelligent Eco Mode - Recording Conversation
-
Intelligent Eco Mode - Speaker Volume (Base Unit Speaker)
8 + OFF
Intelligent Eco Mode - Call screening (Handset)
Y
Intelligent Eco Mode - Call screening (Base Unit)
Y
Intelligent Eco Mode - Language of Pre-recorded Greeting Message
English, French
Intelligent Eco Mode - Remote Operation from Handset
Y
Intelligent Eco Mode - Remote Operation from Outside (DTMF)
Y
Intelligent Eco Mode - Toll Saver (New Messages Recorded / No New Message)
2/5
Accessories
Intelligent Eco Mode - Key Detector Included (Quantity)
-
Intelligent Eco Mode - Range Extender Included
-
Intelligent Eco Mode - Belt Clip Included
Y
Optional Handset
Intelligent Eco Mode - Optional Handset
Y (KX-TGA950)
Others
Intelligent Eco Mode - Rechargeable Battery
Ni-MH (AAA x2)
Intelligent Eco Mode - Talk Time
Up to 15 hours
Intelligent Eco Mode - Standby Time
Up to 7 days
Intelligent Eco Mode - Charge Time
About 7 hours
Power Consumption
Intelligent Eco Mode - Standby Power Consumption
1.2 W
Dimensions / Weight
Intelligent Eco Mode - Base Unit Dimensions (H x W x D)
Approx. 129 x 224 x 125 mm
Intelligent Eco Mode - Handset Dimensions (H x W x D)
Approx. 168 x 48 x 31 mm
Intelligent Eco Mode - Charger Dimensions (H x W x D)
Approx. 39 x 72 x 73 mm
Intelligent Eco Mode - Key Detector Dimensions (H x W x D)
-
Intelligent Eco Mode - Range Extender Dimensions (H x W x D)
-
Intelligent Eco Mode - Base Unit Weight
Approx. 600 g
Intelligent Eco Mode - Handset Weight with Battery
Approx. 134 g
Intelligent Eco Mode - Charger Weight
Approx. 101 g
Intelligent Eco Mode - Key Detector Weight
-
Intelligent Eco Mode - Range Extender Weight
-