Product Features
Introducing the newly designed GENESIS grill that allows you to prep, sear, and serve everything outside, where the party is. The newly designed GENESIS gas grill features our largest and hottest sear zone, with expandable top cooking grate so that the main course and sides are all grilled and served at the same time. Once food is ready, easily transfer it to the large prep & serve table, making for a seamless prep-to-serve grilling experience.
WEBER CRAFTED frame; expand your menu with custom grillware
WEBER CRAFTED 9mm diameter stainless steel cooking grates
Sear multiple steaks at once on the extra-large sear zone
Expandable top cooking grate creates a second level of grilling
NIGHTVISION LED Lighting illuminates the entire grill surface
Smokebox with water pan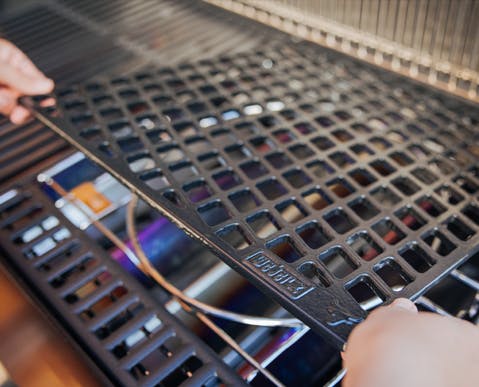 WEBER CRAFTED cooking grates & frame
Make food never thought possible in a grill with the WEBER CRAFTED Outdoor Kitchen Collection. Sear, roast, bake, and steam, by simply replacing the grate with a variety of custom-fit grillware (grates and frame included; grillware sold separately).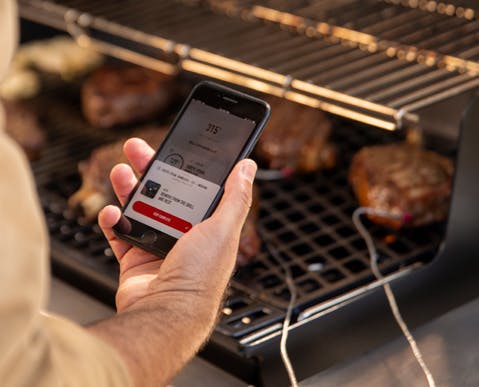 WEBER CONNECT smart grilling technology
WEBER CONNECT smart technology is your secret ingredient to perfectly grilled food. Get real-time food temperature alerts, reminders, and flip & serve notifications at the grill or on your phone.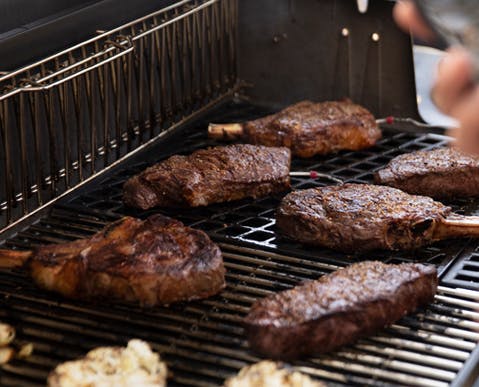 Extra-large sear zone
Grill multiple steaks at once on the extra-large sear zone, so that everyone is eating those perfectly seared steaks at the same time.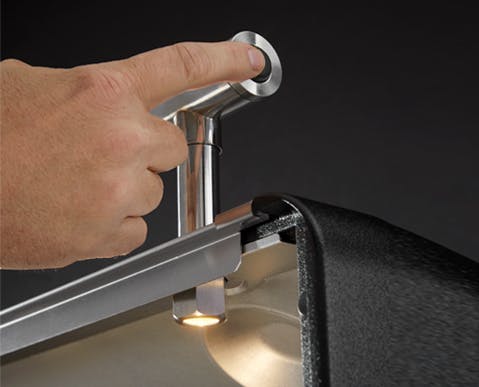 NIGHT VISION LED grill lighting
Motion-activated to illuminate the entire grilling surface and side tables when the lid is lifted so that youre always grilling - from breakfast to a late-night dinner.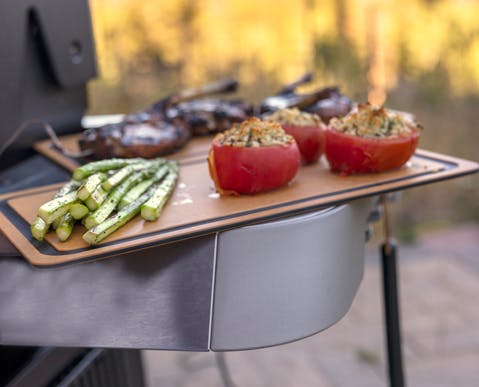 Extra-large prep & serve table
Prep dinner and serve apps outside, where the party is, on the extra -large prep & serve table. It fits multiple serving trays and cutting boards, so that everything is within arms reach.
Grill Specifications
Main burners: BTU-per-hour input
39,000
Sear Zone burner: BTU-per-hour input
13,000
Dimensions - Lid Open (inches)
63" H x 62" W x 31" D
Dimensions - Lid Closed (inches)
48.5" H x 62" W x 27" D
Top grate (square inches)
274
Primary cooking area (square inches)
513
Total cooking area (square inches)
787
Stainless steel burners
3
Fuel type
Natural Gas
Side tables
2
Swivel casters
2
Swivel locking casters
2
Tool hooks
6
Battery type
AA
Batteries
1